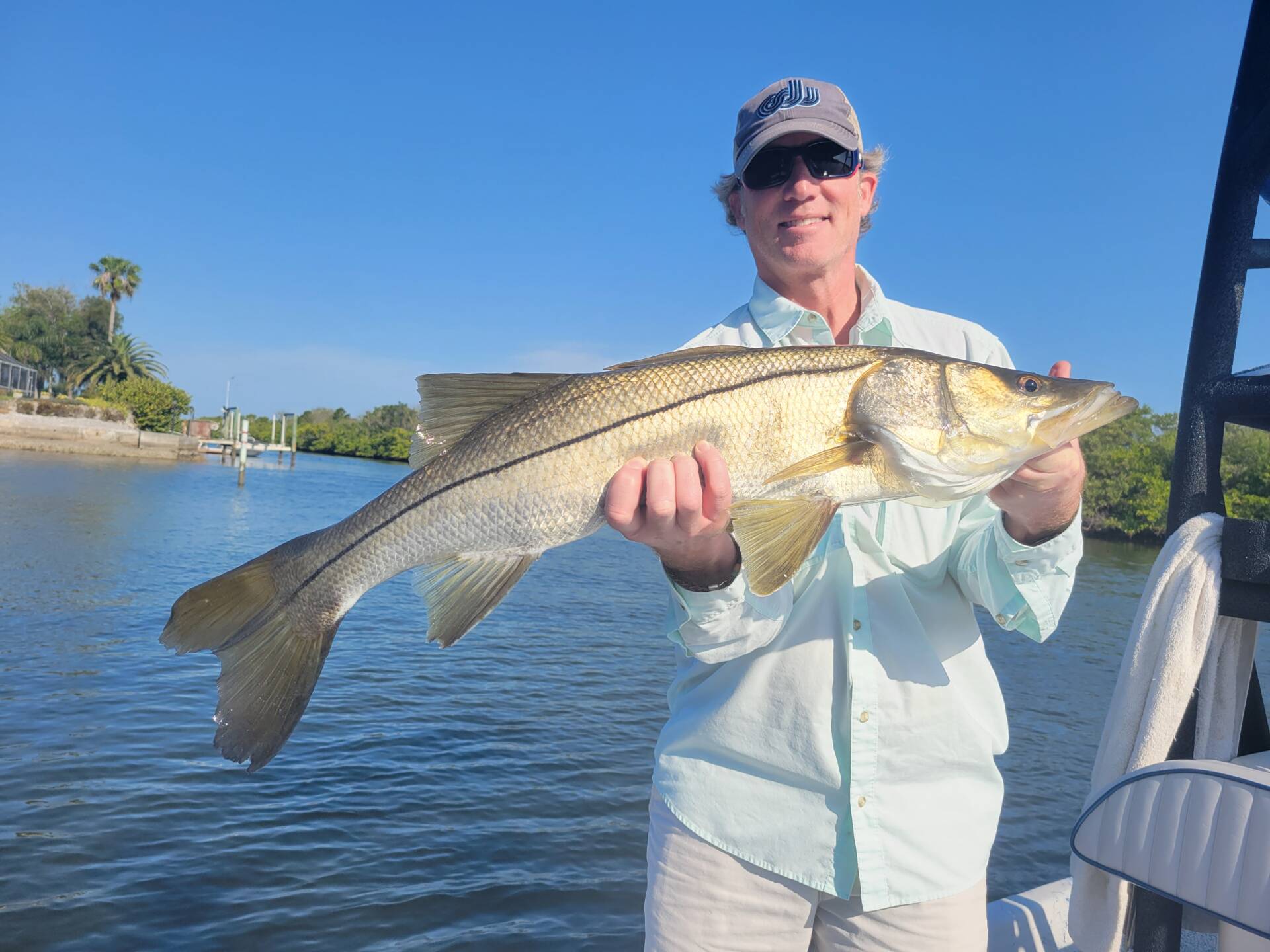 March has been exactly what we thought it would be, great fishing, windy days, and one more strong cold front to make all the guppies wonder what to do. March has also brought out all the spring breakers and all the crowds to see just what Mother Nature has to offer.
The fishing this month has been absolutely awesome, this is the time of year that if you can hit the water you can catch fish, as is evident by all the pictures on FB world news. The main ingredient for a good day is catching the live sardines for live bait. Here is where a little bit of knowledge goes a long way, I have watched guys throw their nets for hours trying to catch the baits and some throw just 3 or 4 times. One thing you need to remember is to make sure you have enough time to catch your bait and fish the desired tide for that day.
Once you have your bait it has been easy as long as the tide is moving, and depending on what you want to catch will determine when and where you start. I have been fishing snook on the low incoming Tide, as the water fills the snook have been eating like there is no tomorrow, this type of scenario requires some holes or channels close to shallow flats. The snook will move up onto the flat as the water comes up and feed all the way to the bushes. There are several areas that set up good for this, North and South channels at Gulf Harbors in New Port Richey, the north side of Bailies Bluff, and most of the spoil islands around the mouth of the Anclote river in Tarpon Springs. If it's Redfish you want, look for the highest part of the tide just as it turns to go out, the reds have been grouping up under the bushes and feeding as the outgoing tide brings food past them. The live sardines have been working fine but I prefer to cut up some of the sardines and pinfish and let the redfish sniff them out, they're are a few good areas for this right now. The cut through at Green Key has had a good group of fish in it for a while know and the very south end of Sand Bay also has a good group of hungry reds, you may have to take a number to get a spot as it looks as if some boats camping with the fish! LOL
One good thing about spring is there are a lot of fish in several different areas, so if your favorite spot is occupied just keep moving and look for new water. You will be surprised what you will find if you just look around. Always remember to look around as you are moving spot to spot, you may just see something worth catching like a big Cobia. While they have been around for a while I have started to see the "run and gun" crew posting pictures of a few Lemons. Take your time and look for big southern stingrays cruising and you will find the cobia in tow, Sand Bay has again been a good area to start.
Remember there are a lot of boats on the water so patience at the boat ramps and channels is important, I am booking for the Fall season so if you have plans after summer get with me, I still have some good dates in October and November.
Till next time,
Capt. Greg DeVault