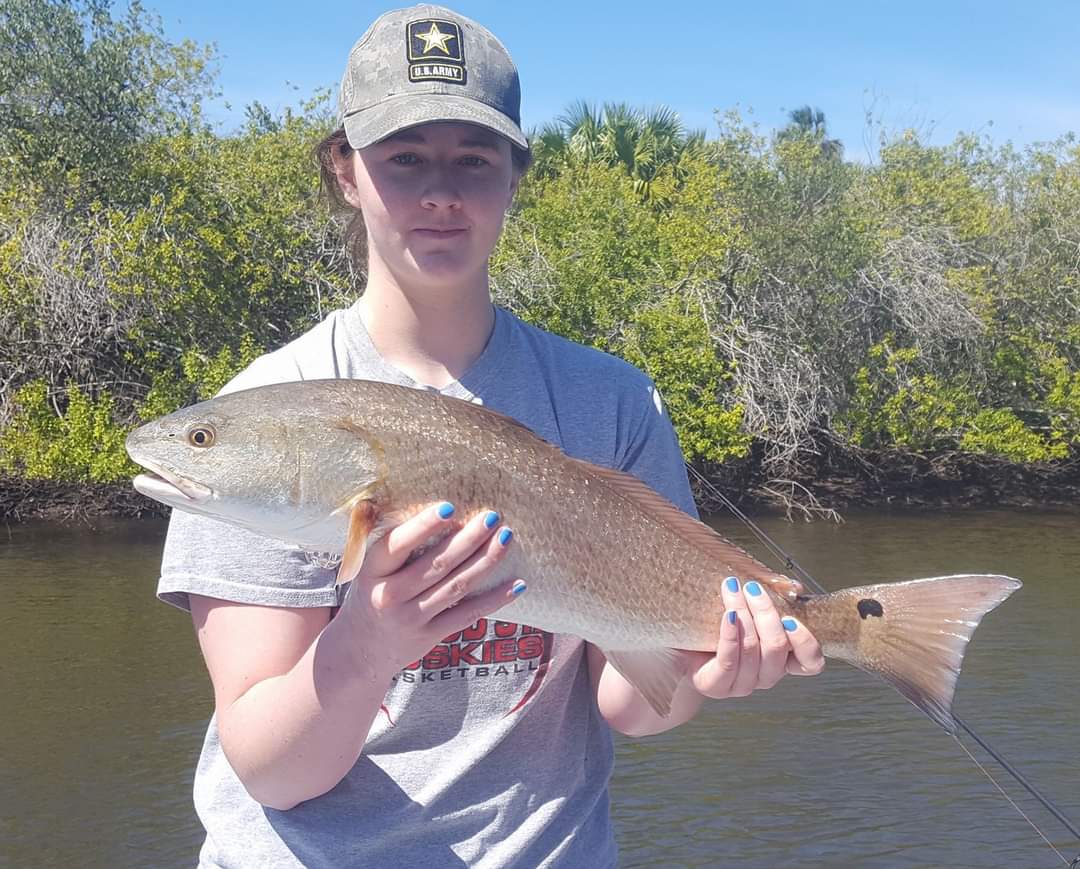 The last report I said that the springtime bite was close, well I can say without a doubt our springtime bite has blown up, and apparently, our area is not alone. On the FB world news I have seen all the regular clichés, "we caught a fish on every bait", "we left them biting", "we had doubles and triples all day", hell I even seen one guide trying to convince his client the Bull shark he was fighting was a Tarpon! But the bite has been awesome and some of the guppies tend to get a little excited.
The best part of this spring has been the bait, it has been thick since the beginning of February and even though some are finally figuring it out, it has been so thick that it has only taken one or two throws and 15 to 20 minutes each morning to secure bait. Most mornings I have just been looking for the tell tale dimples and thrown the net, on the days that the tide is slower I have been chumming.
 I can not lie the bite has been very good, especially for Snook and Big Gator Trout, our redfish bite has been a little slow, but I have not been targeting them very much as most of my clients have been wanting snook and I have been able to oblige them, maybe not every bait….but defiantly every other bait! One thing you don't want to do right now is over chum the fish you are trying to catch, nothing will kill a good Snook bite like over feeding them. The trout bite has been steady and they have been big, which they typically they are this time of year. If you want to fire the trout up grab the biggest bait you can find and fire him out there. You will have to be patient, as it will take most of the trout 3 or 4 shots before they finally get the bait in their mouth. The Redfish are spread out everywhere but if you are wanting to target them I would look in the Green Key area, one of the bigger schools has taken up residence there and if you get to them first you will get a few.
 With as good as the bite is right now it is hard to believe that it is going to get even better, our Snook bite will stay strong and the Cobia will start to show up and soon after that we will have Tarpon… the real ones this time! This is the time of year to follow the birds they will show you the bait and the fish!
If you want to get in on some of the great fishing going on, give me a call or email me, but do it quick as I only have 2 days available between now and May. I hope you enjoy the pictures of a lot of happy clients, and none of them have the long arm disease I've been seeing so much of!!
LOL
Till next time,
Capt. Greg DeVault