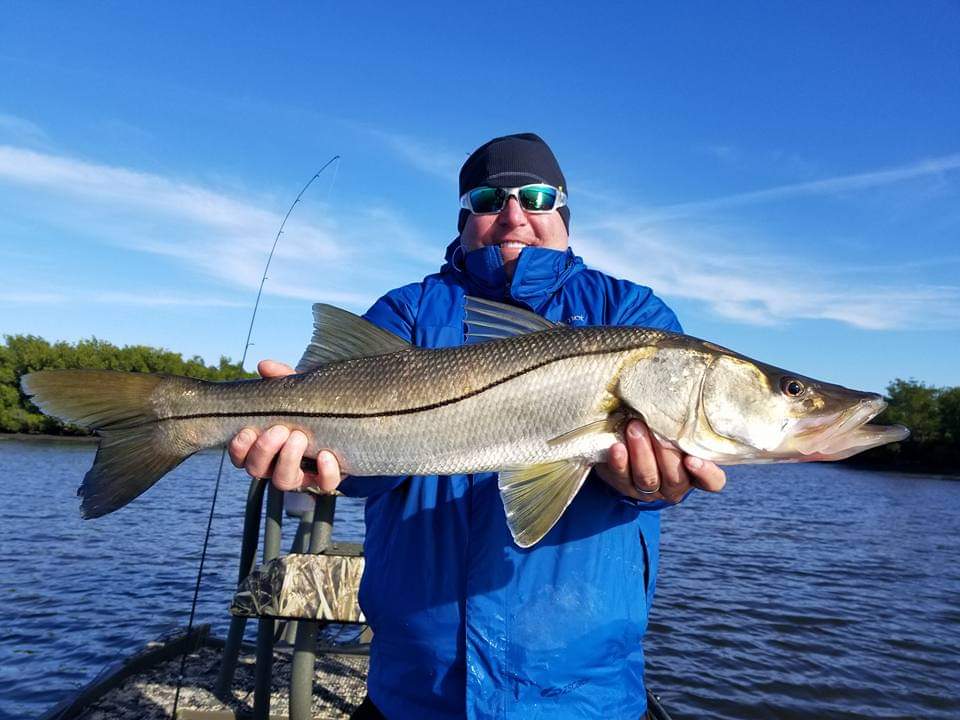 Hello from Florida's beautiful west coast! It has been a while since we last talked and the main reason is it has been an EXTREMELY busy winter, both on and off the water. The fishing has been incredible and as most of my clients know winter means negative low tides and we get to fish in holes only we can get to. We were able many times this winter to set in one hole the whole trip and catch almost as many fish as we wanted.
Mother Nature did throw us a curveball in December though, she brought us weather that was more spring-like than winter. This did change things up a bit, the Sardines that most guides depend on to catch anything showed up and they were able to get back in the "game" when they would normally be watching from their living rooms. This didn't really affect my fishing very much just had to deal with a few more people at the boat ramps as the days were absolutely beautiful.
The one thing that having the boats to go where no one else can, is that the fish do not get beat on day after day like the community holes do. This means hungry and aggressive fish for us to catch on every trip. And it now like seems Mother Nature is making up for the springtime interlude with some late season cold air, and that gives me a few more negative low trips.
It is inevitable that spring will be here and the sardines will flood in on every flat but as for now they are at bay and we will have another week without the fleet slinging chum everywhere!
When the crickets do show there are several areas that will be holding hungry fish in our area, the Snook will show up but the Redfish and Trout will be the main targets to start with. Look to areas that have big shallow flats with some structure like oysters or big patches of Spritina grass. Places like the south end of Sand Bay and the cut-through in Green Key have been holding fish all winter. If Trout are what you want, look for the incoming tide and small rock islands like the Spoil islands in St. Joseph sound, the islands around the mouth of the Anclote River have been good most of the winter also. As it warms up and the sardines show up the trout will start to move onto the deeper grass flats like those off of Howard Park and inside of 3 Rooker bar.
The wintertime is the time I typically tell everyone to watch your moon phases and only fish when we have a full or new moon, however that will change as we move into March. The warmer water and infusion of baitfish will cause the fish to want to satisfy their appetites on a much more consistent basis, the stronger tides will still produce a more consistent bite but the "off" moons will still be worth the effort.
This will be a busy spring for sure as Facebook "world news" is showing that most of the bait guides are "filling up" for the spring and my book is for sure filling up also. I have a few days open in March and April so if Snook and Cobia are on your mind let me know. If you are thinking about Tarpon I have 4 days left open in May and June, and if you want to take a trip like no other to the Marsh of Louisiana and catch Giant Redfish I have one 3-day trip left for August. So I guess I'm booking for next fall! Lol not really but if you want to get on the boat at any time just give me a call. Enjoy the pictures from the past few weeks.
Fish on,
Capt. Greg DeVault