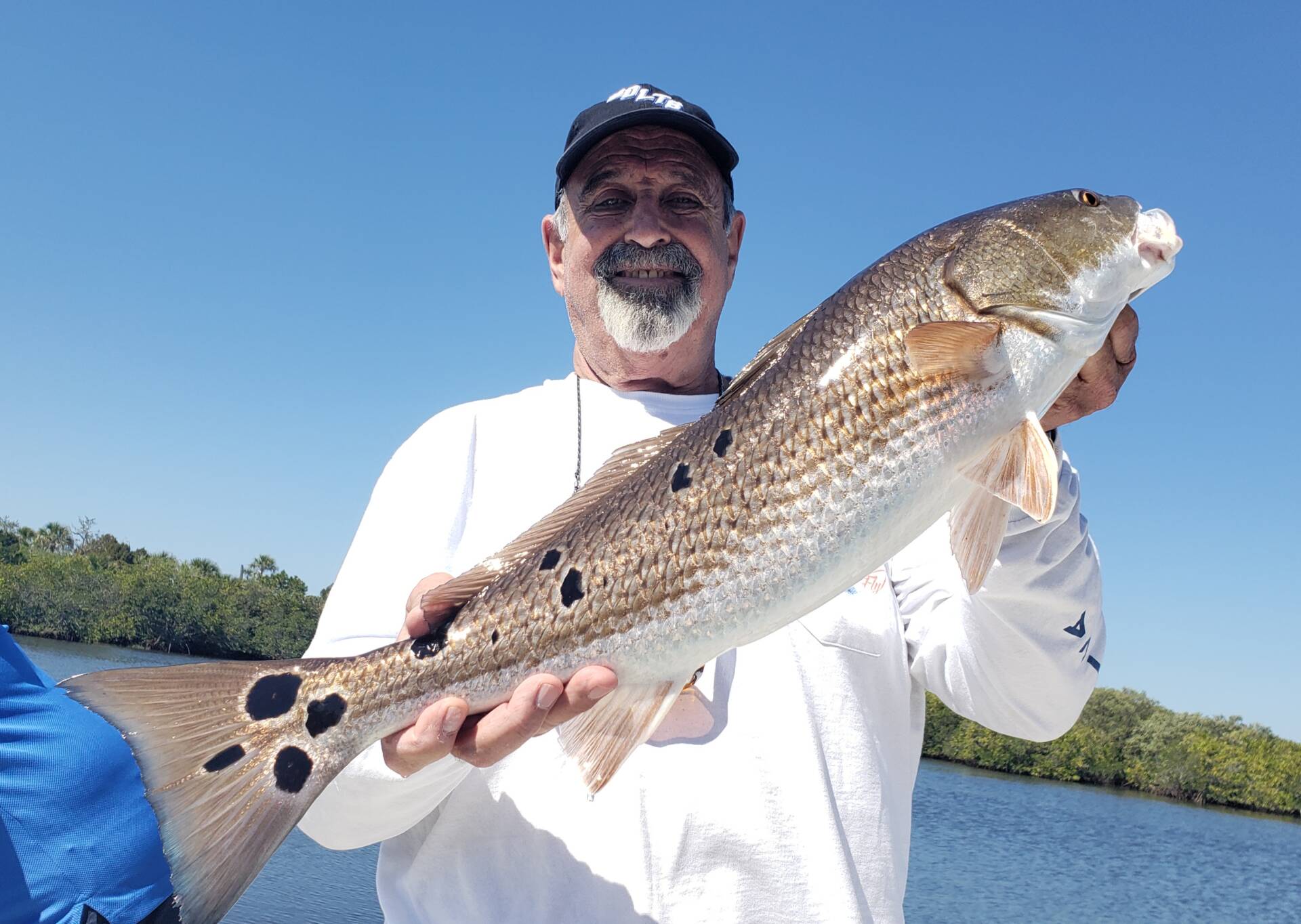 I'm not sure there is anything better than fishing on Florida's west coast during the spring. We have great weather, beautiful water, and the fishing is spectacular. These last 4 days have been a perfect example of all those ingredients and it has lead to some great charters, it is no wonder 90 percent of my spring book is repeat clients.
With the forecast we had for today and it being a Friday, I decided to get an early start to avoid the mayhem that would be the boat ramp after daylight. And I knew although there is bait everywhere, somehow, one boat on a flat always draws a crowd. So my plan was to have bait by the time they got out, and luckily the plan worked well, it only took 2 throws of the net to secure more than enough bait for the day and I was leaving while the crowd was just getting set up. 
I was fishing my good friend and long time client Rob, who just became a grandfather this very morning CONGRATULATIONS. I had them meet me at Nicks Park in Port Richey, we had a very low tide that had just started in and I had a plan for fishing from New Port Richey then North. As i approached Gulf Harbors I could see some of the weekend fleet fishing the community rocks, those poor fish must wear helmets with all the baits they get thrown at them! I decided to move inside and set up on a much less pressured point, the water was flowing in hard and it only took a few moments before the first bait was inhaled, and before we knew it all three lines were tight and Snook were jumping like they were dancing. We landed 10 or Snook, and a hand full of Jacks and then the Trout moved in, but the water had risen to the level I was looking for, and we decided to move north off of Port Richey where I have been wearing out the Snook. 
As we approached the spot the water was just the right depth and we slid into position, I told my clients to be ready as the action was usually very fast in these conditions. The fish proved me right, as soon as bait hit the water there was an explosion and the drag started screaming! This was perfect, well almost, the only problem was instead of big Snook they were big Jack Cravelle. But that was okay as there is nothing that pulls like a big Jack. We pulled on Jacks for the first 30 minutes and then the Snook decided to make their presents know and we started to get Snook in between the jacks, one thing is for sure the drags got a workout for a solid two hours. The water was still rising and I had a small out-of-the-way spot I wanted to try, so we made a small move to a little bayou and put the crickets to work. The bite was defiantly slower than the last spot but anything would have been, it took a few minutes for one of the lines to come tight and when we got the fish boat side it was one of the prettiest Redfish I have caught all year, and one of the biggest at 30 inches. We stayed until the tide quit and caught the biggest Snook of the day in the same little nook, a beautiful 35-inch fish.
With the tide turning to go out and lunchtime calling I decided to hit one more spot in the Cottee river as we needed two trout for everyone to complete their slams, we pulled up to the shore and put the baits in a big school of Mullet. The baits were hit almost immediately, unfortunately, they turned out to be Redfish, not all bad! We had to suffer through 6 or 7 mid-slot Redfish before we finally got the Speckled Trout we were looking for, and just in time, as we were HUNGRY!
With the great weather, I am not sure what tomorrow will bring, I'm sure there will be A LOT of boats, but I have a new client that wants to fool them not feed them so I will be fishing and catching while most of the fleet is looking for crickets.
Till Tomorrow,
Capt. Greg DeVault