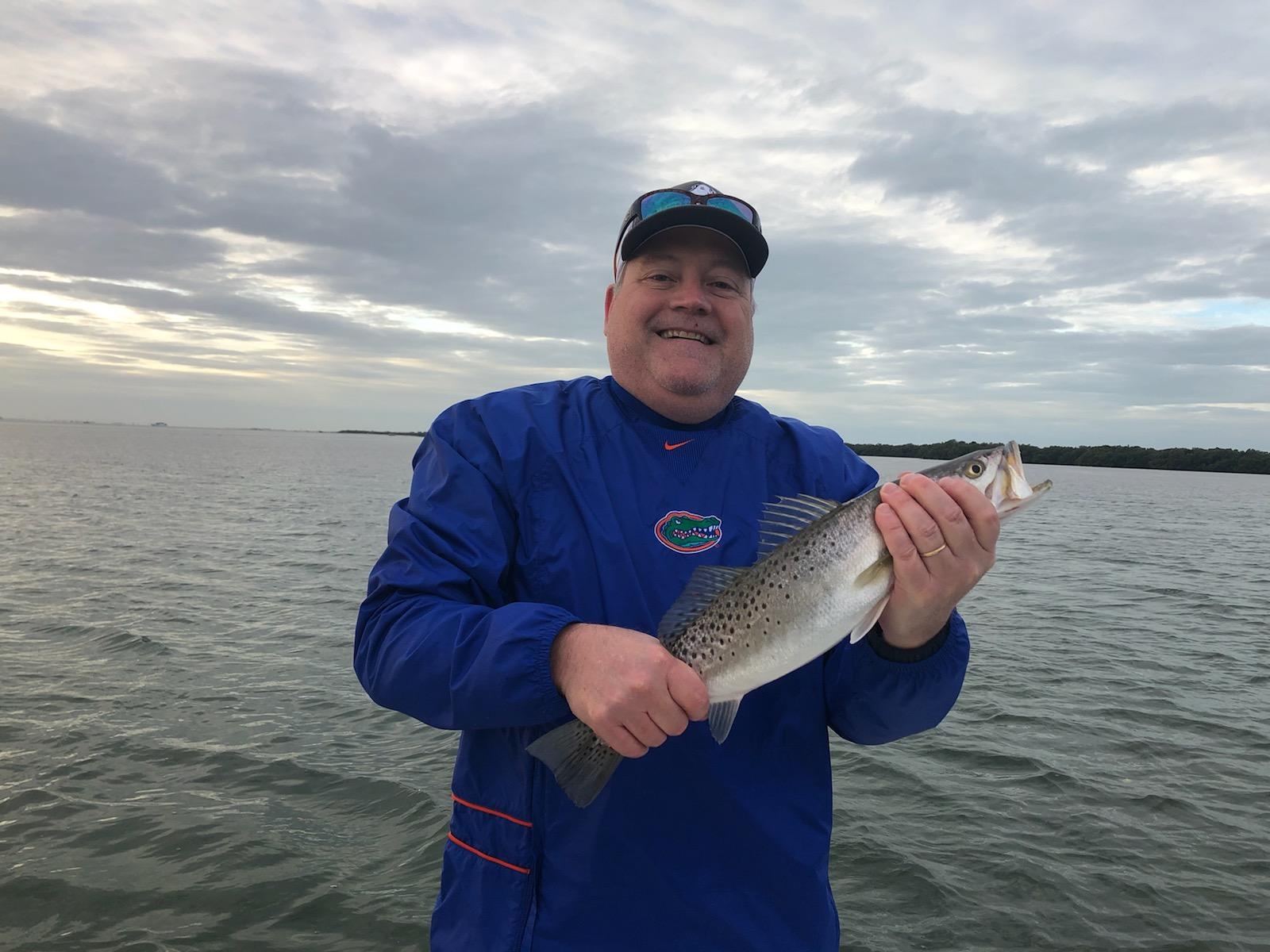 I always love to have repeat clients on the boat, almost 80% of my business is just that, and most have become very good friends. I have been able to watch the kids grow from 4 and 5 year olds that are excited about the bait to teenagers that are great anglers and make my job very easy. The best part is they all have learned what to expect when they get on the boat at certain times of the year.
On Saturday I had long time client Hogan and his son Caleb, as I approached the ramp I could feel the wind buffeting the truck and knew this was not going to work, there were some empty trailers at the ramp I recognized, but I was not going to put my clients through that. Luckily I had Sunday open and so did they and we were able to get out on a much less windy day although it was colder! I had them meet me in New Port Richey so we would have a shorter boat ride to the area I have been smoking the fish at. As I approached the area we were a little early but it was getting skinny and was still going out for another hour. We were able to get into one of the holes and get set up, and as the tide was falling we had fish on for 3 hours straight. We caught Several Speckled sea trout from 20 to 25 inches and dozens of Bluefish. We did all of this on ¼ oz. jigs from Bass Assassin and Mirr-O-Lure, and the bite stayed strong right up until the tides slacked off.
During the slack tide we decided to take a break and eat lunch, Caleb is a growing boy. After lunch the tide had turned and started to come in, so decided to go to another hole that I have been doing good in. it was very skinny getting in but we had the vessel to get there, and once there it was just like the previous hole with double hookups just about the whole time. Although the bite was hot the temperature was steadily falling all day and by noon it was pretty chilly, we decided to catch a few more big Gator Trout then decided to run to one more spot out of the wind and see if we could get the rest of the slam. We found some warmth but all we could get to eat were a couple of Redfish so we fell a Snook short of their slams, however after 100 fish morning they were ok with it.
Like I've said, this winter has been absolutely off the hook when it comes to the bite. And when you hit the tide and weather right you will catch a ton of fish.
Till tomorrow,
Capt. Greg DeVualt