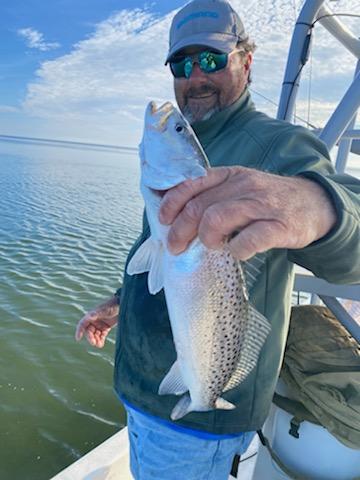 After 40 years on the water, I think I am starting to get the hang of this fishing thing. Last night I got a call from my client for today wondering about the wind we were going to see today, I began to explain to him about how it would be a warm south wind, and with the big negative low tide we would have the fish would be trapped in the holes, and we also have the boat to access the holes before anyone else. On top of that the water has averaged 56 degrees for the last week and the humid south wind along with the small approaching front will have them jumping on our baits. After explaining all that I heard a pause on the other end of the line and then he asked, "so it will be good?" I just laughed and said trust me, YES!
Well, I wasn't wrong, although after putting my neck on the line I was hoping I could deliver. I had them meet me in Port Richey because I knew we would have a giant high tide when we came in and I have a little secret spot that is always on fire with a flood tide, again those 40 years at work. After a long ride to the trout hole, we pulled in and were all alone, although nothing less than an airboat could get where we were anyway. I told them to hit the sand hole in front of them and for the next 3 hours we had at least 2 rods bent all the time. We caught mostly Speckled Sea Trout in the 2 to 4-pound range but also had 15 or 20 bluefish crash the party. 
The bite stayed steady for the entire time we were in the hole and as the tide came in the fish got even more aggressive. After 80 or so trout, I offered the guys a chance to complete their slams by catching some Redfish and Snook, the readily accepted. I ran to a close by a flat that still was shallow but full of small sand holes and has a great Mangrove edge with some depth and with the incoming tide and the south wind, the fish were ready to eat. I set us up so we could cover the whole area with one cast, and the first two baits in the water yielded both anglers their snook they needed and were after. The action wasn't as fast as the first hole but Snook and Redfish rarely eat with the same vigor as Trout. We kept covering the holes but all we could catch were those pesky Snook, but persistence paid off and we were able to convince 4 or 5 redfish to eat and the guys were able to complete their slams. 
It was almost 11 AM and the front was approaching so the south wind had freshened to about 20knots, I suggested that we make a run to my dilly hole and see if the water was high enough. We ran north to a quiet little spot off of Hudson and right away I could tell the water was right! As I got the boat into position one of the guys said they had been counting and we needed 24 fish to reach 150 fish for the day, and did I think we could get it here? I am pretty confident in this spot and my intuition, but 25 fish is a good day let alone hour, but I said sure no problem. I was very happy to see both rods double up on the first cast and stay that way for the next hour. Needless to say, we covered the 150 mark with ease. It was defiantly one of those days!
We still have a solid month of this type of fishing, not all days are like the one we had today, but if you call I may have some great news for you too!