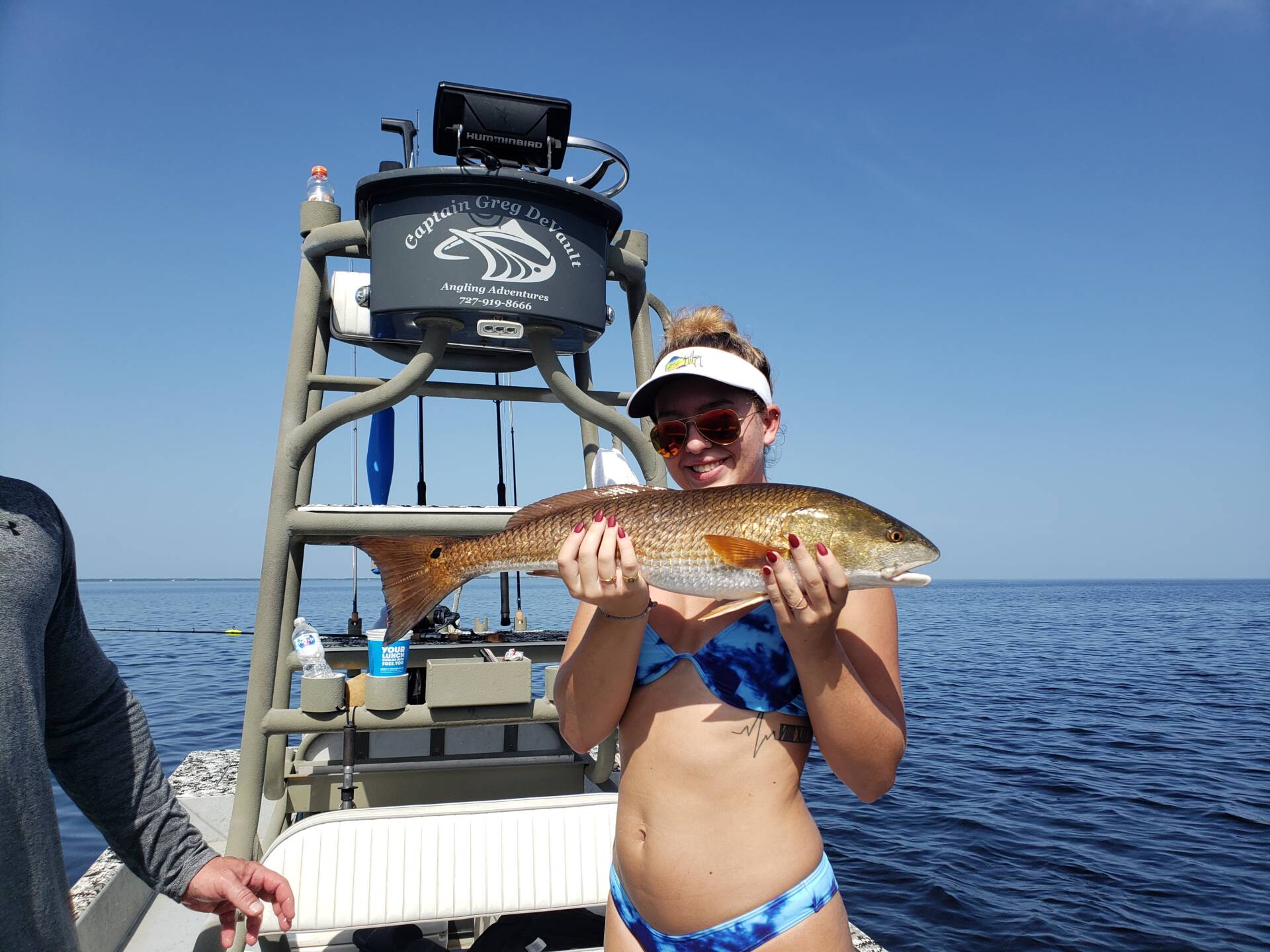 Well, it was a busy first week back from Louisiana, and even though the days are getting noticeably shorter and the calendar says its fall, it is still summertime and hot! All my trips this week defiantly reflected that the fish are still in their summer patterns. So with that being said, there are a few things that you should always remember this time of year. Bring plenty of water, always wear sunscreen, and the best fishing will be early and late when you have the best moving water.
The week started out with low incoming tides in the morning so gathering bait was very easy. I ran north to a known area to catch it, I typically stay away from these areas but with empty boat ramps, I wasn't too worried about pressure. All week bait was very easy taking two to three throws at the most, and the bait is growing nicely with most of the bait being 2 to 3 inches long.
I picked up all of my charters at Nicks park in Port Richey, mainly because with a big incoming tide I was going to be going north of Hudson to fish.  With the water temperatures being in the upper 80s I stayed on the outside edges of all the creeks and bayous that had good current flow and some depth. Summertime is not the time you can sit in one spot all day and catch fish, so we were jumping around from spot to spot most days. This was working very well as we would catch 4 or 5 nice fish at each spot and move on, it was a good thing it is summertime and during the week or I would not have enough spots to hit with the normal crowds.
During my charters this week we caught just about everything that swims in our waters, Redfish, Snook, Tarpon, Cobia, Jacks, Snapper, Grouper, Flounder, and Trout. Again not great numbers or size but a lot of spices and plenty of pulling. I did venture south one day to a spot off of New Port Richey that I love to fish on a low outgoing tide, it will typically hold redfish in good numbers on the end of an oyster bar. As we pulled up I set the Power Poles and could see mullet and Ballyhoo swimming around the bar, I placed a bait right on the edge of them and it was inhaled almost immediately. I nice redfish about 20 inches came to the boat, after that almost every bait that hit the spot was eaten by a redfish or trout until the tide stopped moving. After that we picked up and ran north to one of the Stilt houses off of Port Richey and tried to catch some snook, when we got there we could see the big snook swimming in front of us and with a few chummers they were blowing up waiting for us. It just so happened we had a snook virgin on the boat that day. She made a perfect cast right to where the snook were sitting and everybody on board jumped when we saw one of the big girls come up and eat the bait. It was a great fish and she pulled drag hard and fast and unfortunately for us we could not stop her and she broke off on some pilings. 
I know I am ready for fall and the cooler weather, but most of all the great fishing that is just around the corner. We will soon have the wintertime negative low tide that make it like fishing in a barrel if you have the knowledge and machinery to get to them. And I have both, so be ready to get on board and catch some fish.
Till next time, tight lines
Capt. Greg DeVault