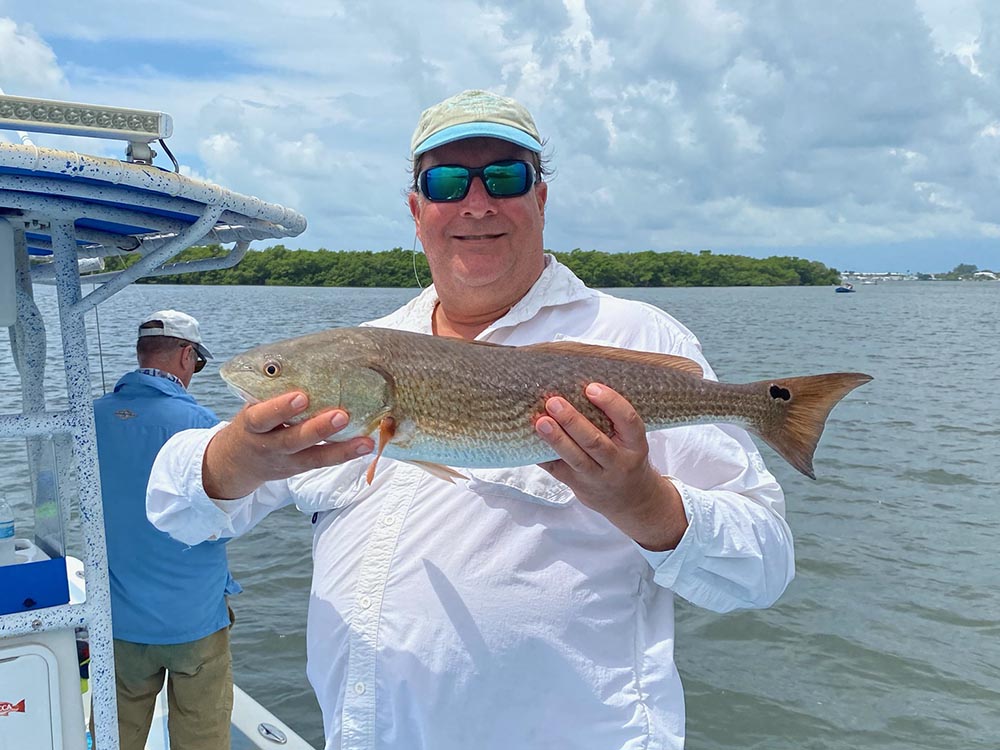 Even though Marco and Laura ran us out of the Marsh a week early, they couldn't stop us from fishing. We just relocated to where the weather and water were beautiful back home on Florida's west coast. My clients that were going to Louisiana decided that since they already had the time off we might as well still fish, just here in Florida. Steve has a condo in Bradenton so we decided to fish the waters off of Sarasota, I am familiar with the area but haven't been there in a while. 
We started at the crack of 7AM, and there is one thing for sure, the bait was much easier down south. They have bait boats on the water here and all you need to do is pull up and pay for your scoops of bait. It took 5 minutes and we had bait for the day!!
We had a low incoming tide so I decided to head to some old areas in Terra Ceia Bay, we fished points that had a little depth and current coming around them. We caught some nice Snook and a few Jack Cravelle but as the water filled up, the bite on the Mangrove islands died off. So, we decided to run into Sarasota bay and fished some grass flats that had a bunch of sand holes on them. As we pulled in we got the boat set up and the first thing we noticed was there was bait everywhere, but with good current we decided to give it a shot. The action wasn't as fast as I would have liked but we were able to put a few more fish in the boat. We stayed there for about a half-hour and after seeing the bait multiply around us figured our bite was done here. 
One good thing about fishing an area you have not been to in a while is that all your spots are open, meaning you weren't there to beat them up the day before. So we bounced from spot to spot for a few hours catching fish at most of them but nothing crazy. The tide had turned and started going out and the storm clouds were building, so I decided to run to a flat with mangroves on the edge with an undercut bank. When we got there the water was moving good and you could see some fish popping baits on the corner we were going to. We got set up and as the first bait pasted the point it was inhaled, as Steve came tight and a nice Snook instantly launched through the surface. While we were fighting that Snook another bait was drifting to the corner, and was again inhaled at the point. The Snook were in the 25-inch range, not giants but great fun and defiantly drag screamers. The big surprise cam when I started to chum the point after a short lull. We started to see the tell tale boils of redfish eating, and sure enough, when the baits were put in them they ate just like we were in Louisiana! We were able to catch several Snook and Reds off the point until finally, Mother Nature got us again.
Although it wasn't Louisiana it was still a great two days of fishing with some of my favorite clients and friends. Steve is set to have neck surgery the end of the week so prayers go out to him for a safe and speedy recovery, the fish will be waiting for you bud!
Till next time tight lines,
Capt. Greg DeVault