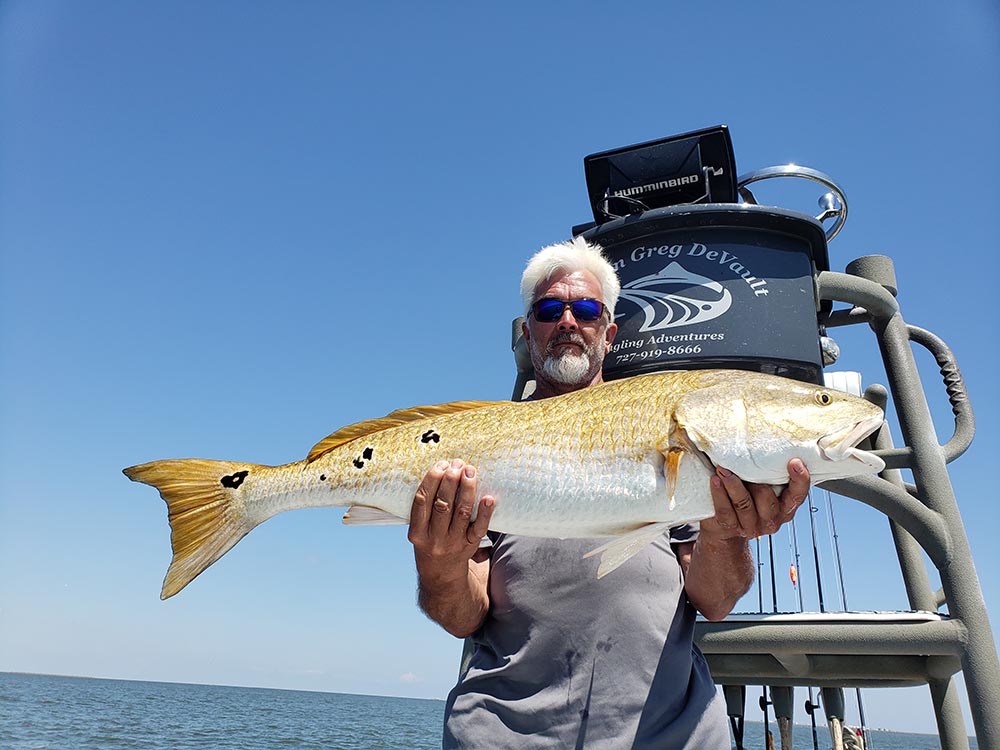 It doesn't matter where we fish, mother nature is still ultimately in control. Louisiana has been awesome this year with both great weather and great fishing. However, she decided to bring that all to an end, the last week I had scheduled in the marsh was interrupted by not one but two hurricanes. As the weather approached we were able to make the decision to cancel the last two groups and get out of town before it got ugly.
The good news out of all of this is the weather did not get to bad and the two groups before them both had great trips with a ton of fish to the boat. The first group was longtime friend and client Mike and his brother Chris, they have been coming to the marsh for 6 years and have seen how good it could be. This year's trip was defiantly one of the better ones, we averaged 20 to 25 fish each day, and when the fish average 25 pounds that is a lot of Redfish. The one thing that was kind of strange about Mike and Chris's trip was that in three days we did not land one Jack. Sometimes that is a blessing in disguise with the size of the Jacks out here. The last day of their trip was an awesome day, they had an early flight out so we needed to be back at the dock by 11AM. So we basically had 3 hours to get on the fish, and that we did. We were able to land 20 fish in those three hours, and lose about 10 pounds doing it. It was HOT!
My next group was new to the Marsh and to my boat this year, Craig and Tamara had come down and caught a couple of Tarpon with me this year and decided to give the Louisiana Bull Redfish a try. They were not disappointed, although their first day was probably the strangest weather day I had all month out there. It started off with rain and then the wind cranked up to 25 out of the south and made for a very bumpy fishing day, but we did put fish in the boat and they were big Reds. The next two days were much better and the bite continued where it left off with Mike and Chris. Both Craig and Tamara landed several big redfish but Tamara was the big winner with a couple that bottomed out my 30-pound boga grip.
It was a great month out in the marsh and everyone that got out this year is on the books for next year, and I'm ready for another great trip to Louisiana. One thing is for sure after fishing in SE Louisiana you will understand why it is the Redfish capital of the world, and if you would like to get on the list to go out give me a shout and ill get you in line.
Now it's back to the gin clear water of the Pasco county coast and a very busy schedule for the fall.
Till next time, tight lines
Capt. Greg DeVault