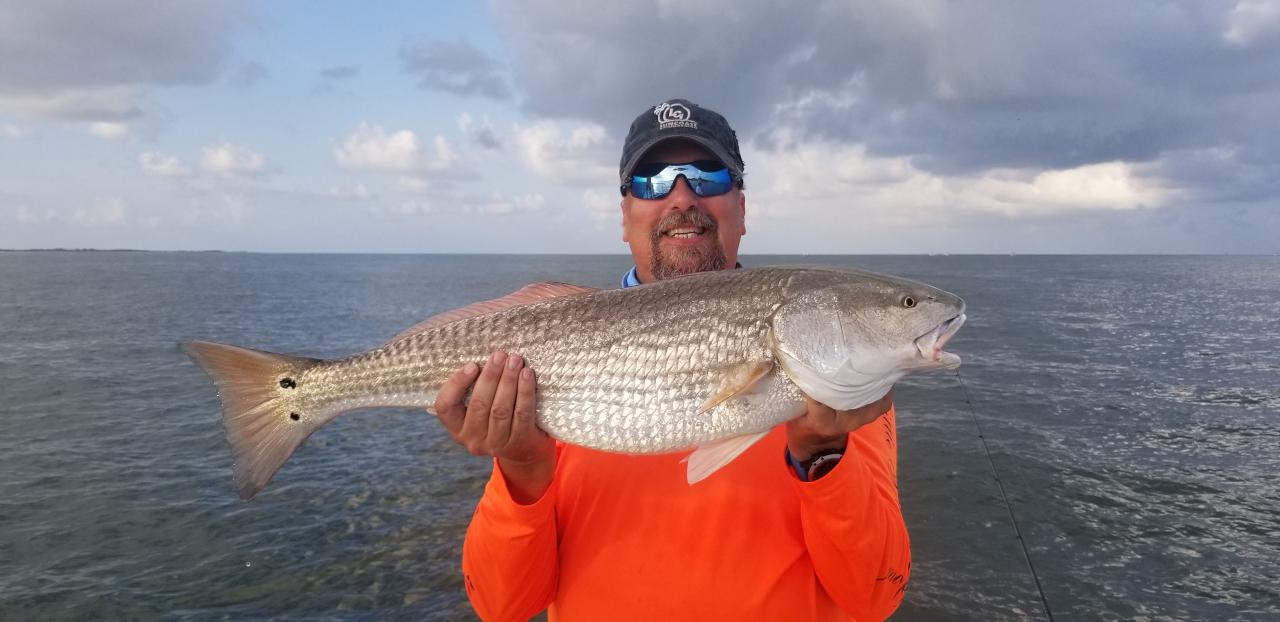 There is one thing for sure, it is full-on summertime in New Port Richey Fl. Since it was my first week back from Boca Grande I took a few days off and only ran a couple trips last week. The weather was not always cooperative as we still had a reverse summertime pattern, which means west wind and rain in the mornings and dry hot afternoons. One good thing was the rain was not widespread and we were able to bounce around most of the storms and stay fairly dry.
The first trip was a regular client of mine that had a couple friends in for the fourth of July and wanted to show them our beautiful water here in Pasco County. We started early running north towards Hudson to a flat that always has bait this time of year, After 3 throws of the net we had plenty of bait for the day. We had a pretty good outgoing tide so I decided to start at a big drain that has some depth off of Port Richey. We got set up and drifted two baits back to where we thought the fish should be and to our surprise both baits were inhaled, and we could see the familiar boil in the water of Redfish. After a few minutes, we had two over slot redfish at the boat, and after a quick photo they were on their way back home. This scenario played out several more times until the tide quit and the fish moved on. We were only fishing four hours and since we had spent the biggest part of our trip pulling on the redfish we decided to stop in the Cottee River and try for some of our baby Tarpon to finish off the day. They were waiting on us however they brought their "A-game" and showed off and threw the hooks back at us every time.
My next trip was another repeat client that wanted to take his three daughters fishing, so action was the focus on this trip. They weren't into the early morning bait run, so I went and caught bait then met them at Nicks Park in Port Richey at 8Am. With a lot of action needed, I figured we would start over the deeper grass flats and try to get some Trout and Mackerel fired up. Again we were dodging rainstorms, and it made it a bit of a pain to get anything going. I could see that most of the rain was to our south, so I decide to make a run north to some rock piles off of Hudson to see if we could get a Mangrove snapper bite going. We got set up and I threw out a couple of handfuls of chum to see who was home. Almost instantly we could see the pops of fish feeding, the girls put out the baits and were immediately had bent rods. Three big beautiful Speckled Trout came to the boat, I chummed a little more and we had trout popping all around us. The girls stayed busy reeling in some very nice trout and a few Mangrove Snapper. This was again a four hour trip so by the time the tide and bite died down it was time for a nice boat ride back to the dock, and the girls got a chance to see a part of the Sportscoast that not everyone gets to.
This week is a light week to and we will again have rain to deal with but the fishing pressure is light and the fish and hungry and plentiful.
Till Next time, tight lines,
Capt. Greg DeVault