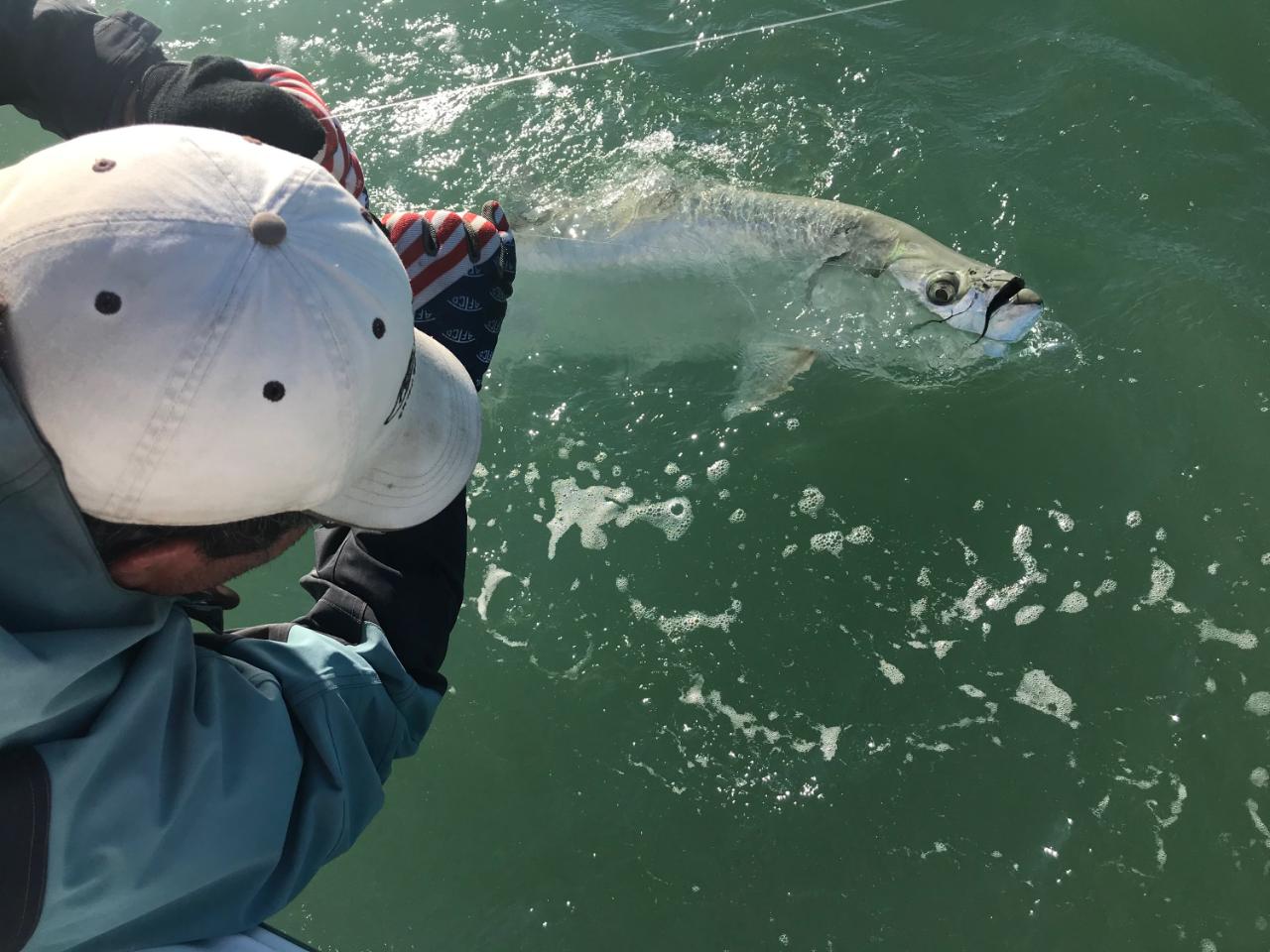 Hello again, it has been a little while since my last report, but May and June mean Tarpon season and all that comes with it. I move down to beautiful Boca Grande Florida for a couple months and do nothing but chase tarpon for my clients for two months. This also means very long days, with most days having two trips, so I start at 5 AM and if I'm lucky I'm done by 8 PM. But I would not have it any other way and now that I have gotten into somewhat of a routine the reports should be much more consistent.
This report will kind of be an over view of the first 13 days here in Boca Grande. As usual for early May the one constant is the wind, seems like we are always dealing with it until mid May. However the Tarpon have shown up in huge numbers and Boca Grande Pass is choked full of them, unfortunately this is the only place they want to be right now. So the beaches that are usually flush with migrating tarpon are not seeing many traveling fish, and the little hidden spots that will usually produce are also void of the silver kings. The only problem that this brings up is it puts all of the fisherman in one area, the pass, and the pass is wide open to the wind. But on the up side the Tarpon have been hungry, we have been hooking and landing several fish on each trip. Small crabs have been the ticket to get them to eat and stay on the hook, we have had a very good hook up to landing ratio this year so far and hopefully that continues. 
For those that have never experienced the thrill of catching a giant Tarpon, there is nothing quite like the strength and speed of a Tarpon. They will take 100 yards of line in an instant and then rocket 10 feet in the air doing all types of twist and flips to dislodge the hook. It is a instant rush of adrenaline and for those that have had the chance to do it, it is an addiction.
There is another part of Tarpon fishing on the coast of Boca Grande that gets over looked by many just because the Tarpon garner most of the attention, and that is the shear beauty and tranquility of the water we fish in for these fish. A lot of our day is spent idling along some of the prettiest beaches the state of Florida has to offer, a lot of time without another boat in sight. And the waters are so clear that the sand turns them into an amazing turquois color that is mesmerizing, and then there are the Tarpon that give any angler the memory of a lifetime with just one jump!
It is not hard to understand why so many people come back each year to do battle with the king and then just sit back and soak in all the natural beauty that goes with it. If you have not done this yet, you really need to.
Till tomorrow tight lines,
Capt. Greg DeVault