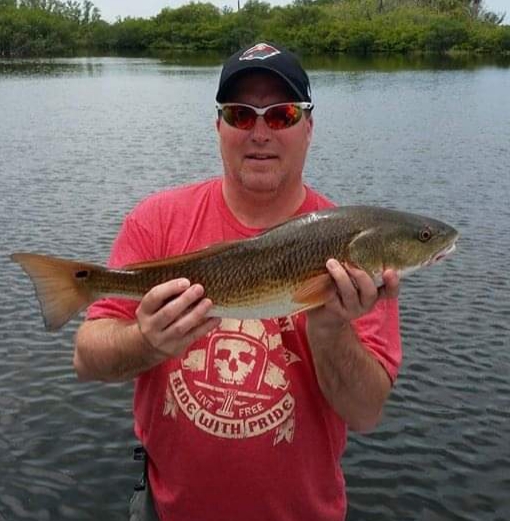 After a couple days off the water due to slow tides and some rainy weather, it was time to get back after the fish and hopefully pick up where we left off. I started early, as I wasn't sure if the bait situation had gotten any better. I started on the last flat I had got it at in hopes that it would still be there. The first throw was pretty good as was the second and my hopes were high, unfortunately that would be the end of the bait on that flat. I moved farther south toward Tarpon Springs to see if I could get a few more net full to finish up with bait. The bait wasn't very thick but I was able to get enough to have plenty for the day.
I arrived at Anclote River park in New Port Richey just as my charter for the day was arriving, today was one of my corporate customers, and the guys are always looking forward to getting on the water. We had a pretty good incoming tide for the next few hours so I decided to start by running south to a island I have been catching a bunch of good trout. When we arrived the bite started off slow, but once we found where they were laying, the action was steady for the time we were there.
Once the tide slowed up the bite tapered off with it, so we decided to run north to an area that typically holds some nice Snook off of Port Richey. When we got there the tide was dead slack and nothing was happening, so I took a few minutes to retie a couple of the rods. Once the water started moving we started hearing some fish pop the surface, we put some baits in the area and both were taken without hesitation. We landed one of the snook and the other jumped free, but that was the last bite we would get. I knew we were going to have a weak outgoing tide but there was almost no movement to stimulate any kind of bite.
The rest of the trip was a copy of that spot, we would pull in get a couple of bites and that was it, so we decided to just keep bouncing around and picking off whatever would bite. We hit 10 or 12 different spots and the fish would just not get fired up, sometimes the fish just don't want to cooperate.
With about an hour to go the wind laid down completely and the water went slick, I told the guys we should look for cobia on this tide. We ran to a close-by flat and started looking, the water had again cooled down to 70 degrees with the clouds and rain from the days before. We covered a bunch of ground but only saw 3 Sting rays and no Cobia but we did come across a school of ten-pound jacks that gave everyone a good tug. After that we spent a few more minutes looking for Cobia before we headed back south to the dock.
Tomorrow and the next few days should get better with great weather and tides getting stronger, hopefully the bait will also get better with it.
Till tomorrow, tight lines
Capt. Greg DeVault