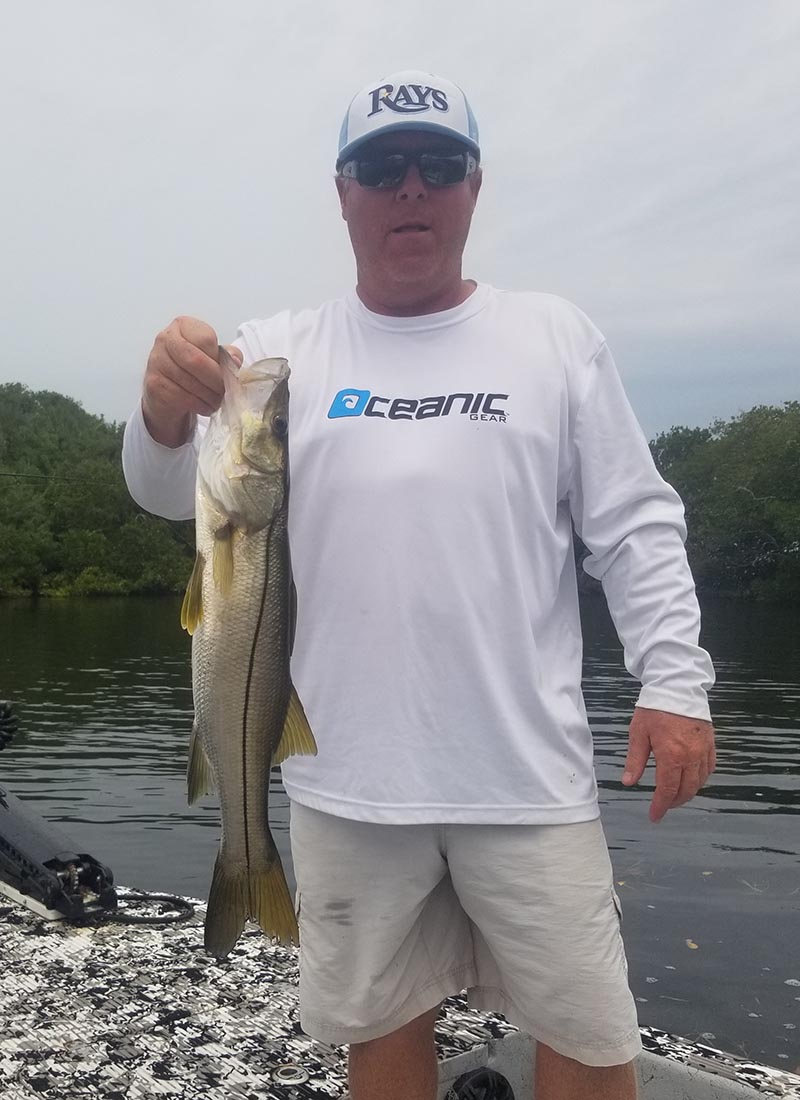 Fishing Report 4-10=20
Another windy start to the morning awaited me as I arrived at the ramp, I had my charter meet me again before we went to get bait, as I wasn't sure how long it would take. As we left the dock in Tarpon Springs I could feel the wind had a little more velocity than it had yesterday, I wasn't sure how the bait would react, but would soon find out. We got set up with the outgoing tide and started chumming, after ten minutes or so I decided to throw the net to see what had arrived. As I drew the net up I did not like what I was seeing, very few silver flashes, I threw the net again after ten more minutes and it was again empty. Defiantly not the result I wanted, we Left the flat and ran west out to Anclote Island to see if it was any better out there. Unfortunately, it was not, I threw the net several times and had forty baits to fish with, we also had a good number of pinfish for the redfish and cobia. 
We headed south to start with to a spot off of Tarpon Spring that has had a bunch of Trout and a few Snook, with the wind blowing at 20 knots out of the NW we were able to set up a good distance from our spot and not alert the fish. The first bait was sent in and was inhaled by a very large Snook, who proceeded to make a forty-yard run before we could turn her. Once turned she made a run for some rocks, and with a bad angle we could not get her stopped and she was able to cut the line on the rocks, very depressing! However, we hooked one more snook there and caught and released twenty or so big gator Trout before we decided to run north to off New Port Richey to see if the redfish would eat for us. 
With all the west wind we have had the past couple days the incoming tide was extremely high, so I knew the redfish would be way up in the Mangroves and tough to get baits to. Luckily the wind and tide were helping by pushing into the mangroves and we were able to let the bait drift right up and under them, every time we got the drift right we hooked a fish. Most of the fish were mid slot fish with a lot of energy and plenty of power to pull the drags.
After 5 or so Redfish the bite slowed and we decided to try and spot some Cobia, conditions were less than desirable but I could see enough to make us hopeful. After thirty minutes of looking and seeing absolutely no stingrays or cobia we decided to go on to try and catch some snook.
With the water still moving in we moved to a mangrove edge that had a nice undercut bank, we put a few baits out and one of them was hit hard by a hungry Snook. After a few strong runs we were able to bring a decent snook boat side, and after a few photos she was released to fight again.
I am taking the weekend off as I do not want to deal with the crowds I know will be out there, and hopefully the bait will decide to thicken back up so we don't have to throw the net 50 times a day!
Till tomorrow, tight lines
Capt. Greg DeVault