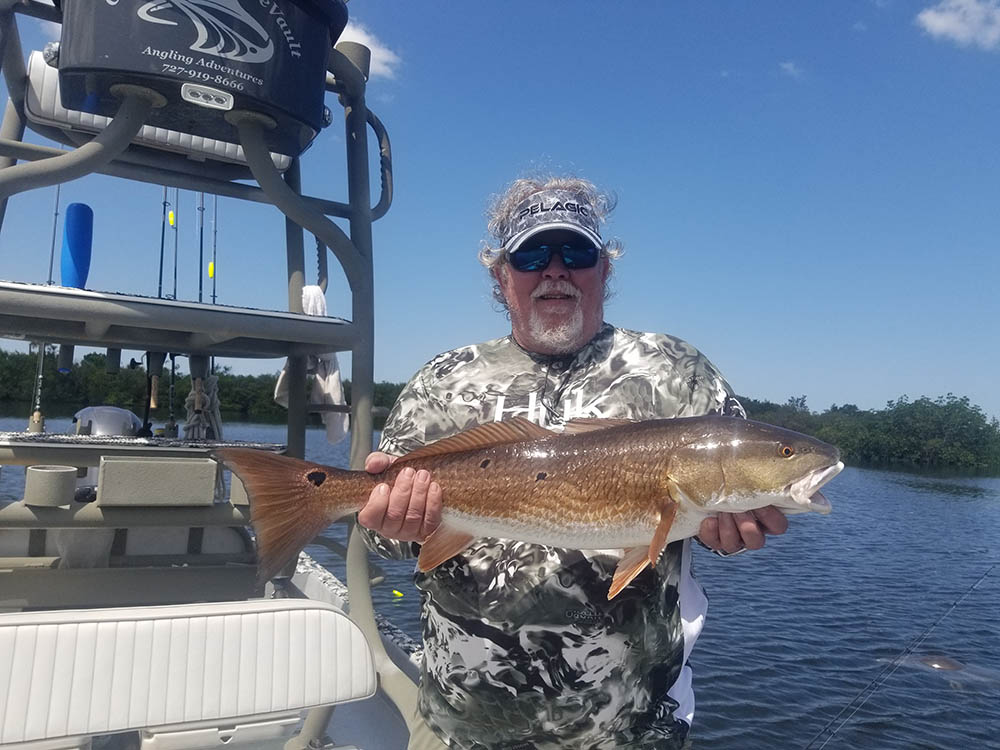 Today started with one of the prettiest rides across the water I have had in a long time, I left the dock at 6am but it was far from dark, we had one of the biggest and brightest moons I have seen all year. As I left the Cottee River to head to the bait flat it was like daylight on the water, there was nothing I could not see and the wind was dead calm so the surface was like a mirror. It always seems like we have more windy and rainy days than not but the really nice ones stick with you. As I arrived at the bait flat I was again the first one and the only one for quite a while, I was hoping for a easier time with the bait, but today would not be that day. I started chumming and I could see some flashing and decided to throw, I got about 50 Pilchards on that throw. Unfortunately, that would be the best throw of the day, and it was back to 15 to 20 a throw, it took about an hour but I secured enough bait for the day.
I met my charter for the day at 8:30 am at Anclote River park in Tarpon Springs, the tide had just started to come in so I decided to make a short run out to Anclote island to fish some holes and troughs I hadn't hit in a while. We started in one of my favorite holes, you have to run a very shallow flat to get into a 5-foot deep hole that is always loaded with fish. Once we got set up we could see mullet flashing and jumping in the deepest part of the hole, we put two baits out and after they got chased across the hole very aggressive Speckled Trout hit them both. This went on for the entire time we were in there, and once the water came in we decided to move on to try other things.
While we were out by the island I decided to check on a few spots I haven't been to in a while, the first spot was a hole along a beach that usually holds some nice trout. As we pulled up I could see fish moving in the hole, we put a couple baits out and one was hit instantly, the drag started screaming and I knew this wasn't a Trout. The fish made a screaming run and then broke the surface and showed us she was a large Snook. She made one more strong run and then broke the 30 pound leader, we quickly retied and put more baits out but apparently that was the only hungry Snook. We tried for another 20 minutes but decided to move on to some other fish.
We rode north toward New Port Richey to fish a spot I had seen some big redfish at yesterday. We were going to fish a small bay with a very dark muddy bottom that had good current flow on the incoming tide. We put out the first bait and it got chased right away but nothing ate it, I put a cut bait out and it took about 2 minutes before the line came tight. Once hooked it pulled like a fright train and was rolling just like a redfish, the only question was how big was it. It mad two big runs trying to get to the mangrove edge but the Shimano drag was smooth and strong and turned the red away from trouble. When we got the fish to the boat he measured 32 inches and weighed in at 11 pounds, It was defiantly the fish of the day.
 We bounced around to a few more spots and caught some more trout and reds, and even got some Jack Cravelle to take the bait.
Another warm day means warmer water tomorrow and with good tides through the week it will be a good end to this week.
Till tomorrow, tight lines
Capt. Greg DeVault