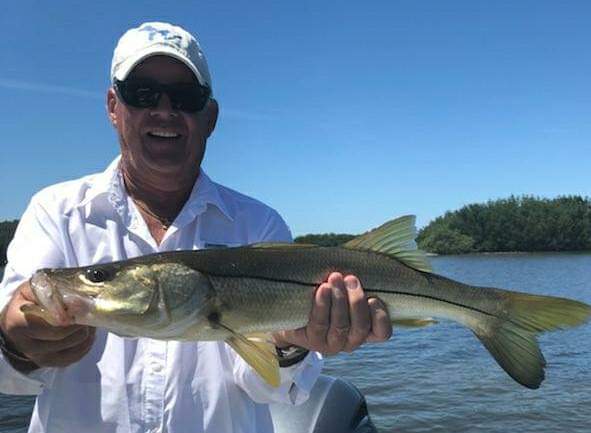 This morning started with a bright full moon and calm winds again, I had my charter meet me at the ramp in New Port Richey just in case bait was tough and we would have to do some traveling to find it.  We left the dock at 6:30am and ran south to the flat that I have been catching bait at, as we pulled up there was one other boat there but they would soon leave. Right now patience is a virtue when it comes to bait, I started chumming and it took 20 minutes or so before I started to see the flash of what we were looking for. The first throw yielded about 10 baits, not at all what I wanted to see. But we kept chumming and the next 4 throws were all 75 or so baits, patience payed off and we were off the catch some fish earlier than the past few days.
With two boys and their dad I decided to start with some faster action, we went to a channel edge and got on a pretty good trout bite for the start of the incoming tide. After several nice big Gator Trout we decided to move on to try and get a Snook or two to bite, the tide was running in hard so we moved to a flat with a bunch of sand holes that the Snook like to lay in. We drifted baits down to the area they should be, and the bites were instant, as soon as the pilchards hit the holes they were smashed. We didn't get any giants but they were all solid mid slot fish, except for one that could not be stopped and wore through the leader before we could get her turned. After the big girl ripped through the flat the bite slowed down, so we decided to run north to get back ahead of the tide. We took about a 15-minute ride north off of Hudson to see if we could get some Redfish and Snook in a small bay. This little bay is about 15 foot deep so I put the PP Move on anchor lock and we sat motionless for 30 minutes catching snook and reds both. There were not as many fish as I had hoped and after we caught a couple catfish it was time to go.
We had about an hour left in the charter so I decided to try a spot in the Cottee River that I had been catching a few trout and snook. As we pulled in there was a boat setting on the bar, so we settled in on a dock that usually holds a few fish also. I started chumming and we saw a few pops one of the boys made a perfect cast and after watching the pilchard run for his life, his line came tight and a nice sized Snook went airborne. After we landed him we caught a few Jack Cravelle, and a couple ladyfish, and then the tide quit and so did the bite.
 Tomorrow will be another early day and hopefully the bait will get just a little bit easier. At least the weather is beautiful and the fish are eating.
Till tomorrow, tight lines
Capt. Greg DeVault