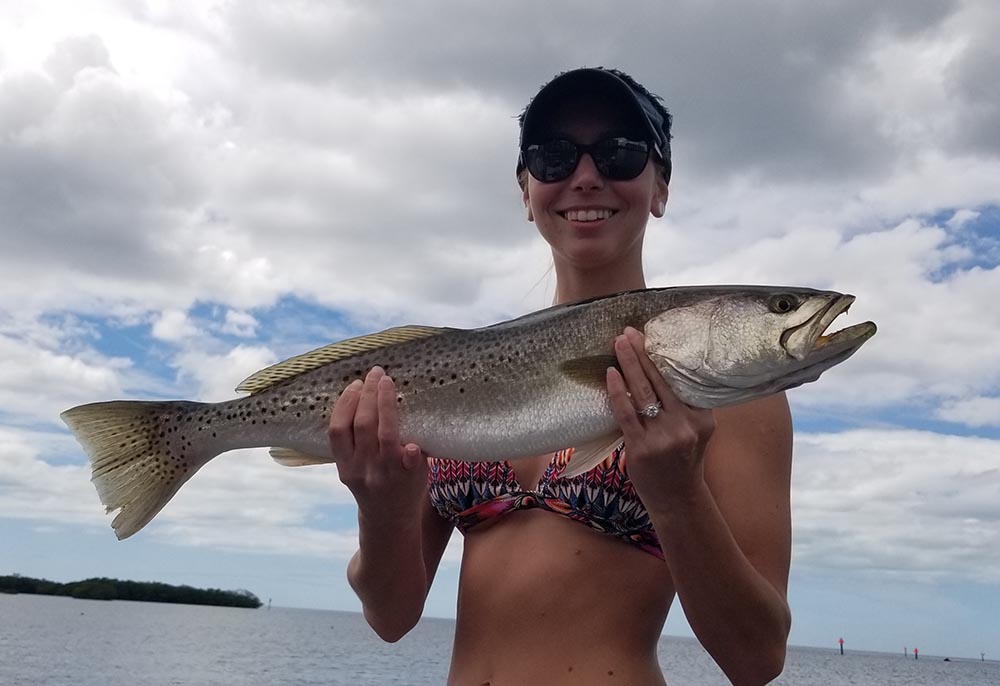 Thank god it's Monday! Words only a fishing guide would say, but after the number of boats on the water this past weekend I was very thankful it was Monday today. I left the dock early today in anticipation of another tough morning catching bait. It was a beautiful ride out to the bait flat with a big full moon and glass flat conditions, when I arrived I was the only one there and it would stay that way until just before I left. And although bait was better it was still tough, and took several throws of the net to secure enough bait for the day.
I backed up the pick-up time for my charter to 9 am to give me a little extra time to get bait. I met my Charter at Nicks Park in New Port Richey right on time and with bait, defiantly a better start than yesterday. Since the trout bite was so good on the incoming tide yesterday I decided to start there. As we pulled in the tide was ripping in, and as soon as we put baits in the water we had fish on. We had plenty of bait today so I stayed with the trout until everyone had gotten their fill. 
The tide was coming in, but we still had a couple hours before high so I decided to try for some snook in a small cul-de-sac bay off of Tarpon Springs. Once we arrived I noticed the water had still not warmed up much, but it was over 70 so I was hopeful. I threw out some chum to try and get them fired up but only had one pop, we put the pilchards to work and immediately had the aggressive one hit again. It was a decent snook about 25 inches, but that was the only one we could entice.
The tide had topped out and the sun popped out so I decided to look for some Cobia while I waited on the outgoing water, the incoming tide had brought with it cooler water and with 68 degree water the Cobia were a no show. We were close to the area where I had got on the redfish yesterday, I usually don't hit areas two days in a row, but it was so good yesterday I decided to give it a try.
With the outgoing tide this time I set up on the opposite side of them, and I drifted a pilchard and a piece of cut bait to them. For the first 10 minutes, nothing happened and I wasn't sure it was going to happen. I got into my tower and I could see them moving just outside our baits, so I lifted the power poles and drifted up ten yards or so. The first bait into them was an instant bite, and a gorgeous 26 inch redfish was in the boat. Unfortunately, that would be the only bite we would get from them, I could see them moving around our baits, but I don't think they had forgotten the beating they took yesterday.
As we were heading back to the dock I had one more spot I wanted to hit on the outgoing tide. It was a spot I did very well at last spring and haven't messed with much this year. As we pulled up I didn't notice the mullet that usually covered this spot, but we gave it a shot and boy were we rewarded. Once the baits hit the water they were running for their lives, after a large boil and the telltale "pop" it was fish on. The fight was that of a redfish, so we thought, strong runs and twisting pulls had us fooled, as the fish got close to the boat we realized it was a huge Gator Trout. Once in the boat it measured 26 inches and weighed almost 6 pounds on the boga grip, a true trophy trout for the Pasco County coast.
 With beautiful weather forecasted and great tides for the rest of the week, I'm looking forward to some great fishing this week.
Till tomorrow, tight lines
Capt. Greg DeVault