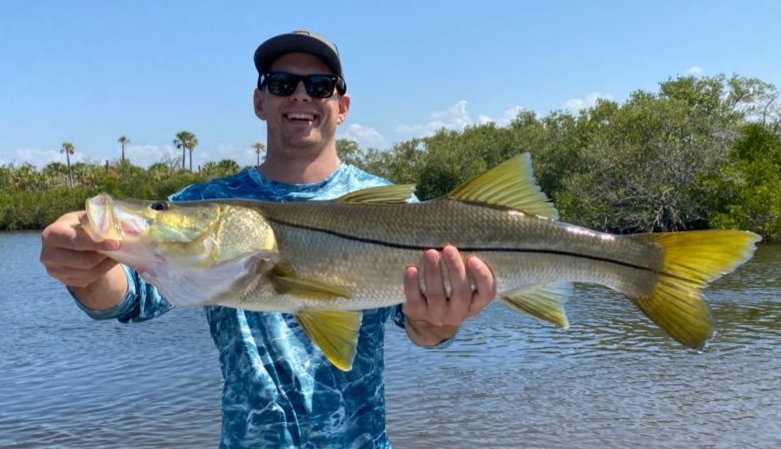 There are many things that I have learned from my 40 plus years on the water off Pasco county, one of the biggest is to notice the condition that make for a great bite. Things like water temperature, length of days, tide pattern and bait patterns all figure into a mental picture I paint every morning. At the start of this week I knew we were close, very close to a fantastic bite, this past Tuesday was the start, we found a pocket of snook and they ate like no tomorrow. Fast forward to today. I felt like with a low tide at 9am we would have enough sun to warm the shallows and get the snook in prime form to eat anything on the incoming tide. 
I set my client up to meet me at Anclote River park in Tarpon Spring at 8:30am so we would arrive at the hot spot just in time for the incoming tide, we got set up and waited on the water to start flowing. And as the tide started pouring in I began to throw out some chummers, and oh my god, there were snook blowing up everywhere. I almost got whiplash from jerking my head around so much, we put baits in the water and the bites were instant. We had two and three snook on at a time and the other snook were hitting the floats as the guys were reeling them in. We caught around 30 snook from 24 inches to 36 inches, and the bite was insane I don't often get over excited about a fishing hole but the whole time we were there, we were all giggling and laughing as the snook would blow up any bait that was swimming in their sight. My guys could not believe how good the bite was, and I honestly haven't seen it this good for several years either. We stayed until the tide started to slow and the bite eventually did to, so we decided to eat lunch and move to a new area to finish out the day.
We headed back toward New Port Richey to fish a small oyster bar that always has a few fish on it, as I pulled up I could see it was covered with mullet. This time of year if you get mullet on an oyster bar it is going to be game on, we trolled in and got set up, the first two baits were hit as soon as they hit the water. Big headshakes and short runs meant we had a couple nice trout on, we landed those two and several more just like them before the guys decided they had, had enough. I had one more stop I wanted to stop at just to see if any one was home, it is a hole near the Anclote River that will get Jack Cravelle and Trout in it. I loaded the chum slinger and launched them into the hole, the surface started foam from all the activity. After 10 or 11 Jacks the guys were done for good this time. 
I had a feeling that today would be a good one but oh man, it was an absolutely fantastic day, and on top of it all we had beautiful weather and fantastic scenery. Today is what springtime fishing is all about, if you can get out give me a call and lets go.
Till tomorrow, tight lines
Capt. Greg DeVault