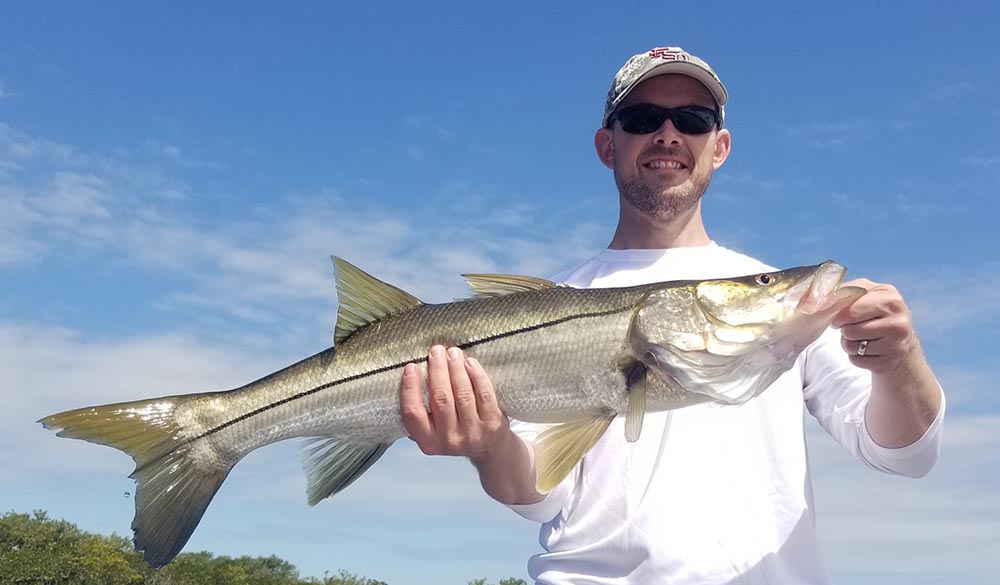 Without a doubt today was Saturday, I had a feeling it might just get a little crowded today so I arrived at the boat ramp around 6 AM, way earlier than I needed to be there for bait. But it worked out good as there was only one other boat there and I was able to launch and be on my way to catch bait well before the sun came up. It always amazes me as to what a different world it is on the water when it is pitch black, it is quiet and just a little eerie, as you don't readily see all your points of reference. But most of the time you are the only one out there, as was the case this morning, at least for now.
Today's charter was a friend of one of my regular client who was referred to me, he said his grandson would be with him and they wanted action. With the tides we have this week and the water temperature in the mid 70s, I told them we would be very busy.
I met them at Nicks Park in Port Richey after I returned from my favorite bait flat, I had a full live well and off we went. I decided to start at one of the trout spots I have been fishing this week to get the action going, it is always good on a hard incoming tide like we had this morning. We got set up and Evan launched a bait into the water, it was eaten almost instantaneously and he was pulling on a large gator trout. Just like the past week or so the bite was fast and furious for almost an hour, we had a few jack Cravelle mixed in and Evans dad caught a very respectable 28-inch snook.
Once the bite slowed a little and the water had come up we decided to see if we could get Evan his very first inshore slam. We moved to a small bay that was lined with mangroves, I threw out some chummers to see if I could locate what we were after. There were several explosions and as we moved in our anticipation was high. All three of them launched baits into the area where the fish had showed themselves, and like they were playing centerfield all three floats were gone immediately. Evans started pulling hard and kind of rolling and bobbing, I thought to myself…Redfish. And it was a beautiful 28-inch redfish, Evans first redfish and 2/3rds of his slam. His father had a nice red and the third fish was another Jack Cravelle. We stayed in there and caught a dozen more fish, a mix of Jacks and reds. But not the snook Evan needed for his slam, so off we went to a sweet little honey hole I have been going to in the Hudson area all week. I picked the biggest bait I could find in the live well and hooked it up for him, he launched it out and I told him to hold on. It took a few minutes but his bait started going nuts and all of a sudden he was crushed, Evan was pulling and holding on, and when it got boat side he had completed his slam with a 29 inch snook! But his dad couldn't let Evan have all the fun and while we were taking photos of Evans fish we could here the drag singing on his reel. Once at the boat, we measured him to be 31 inches.
It was amazing to see how many boats were out today, but having a boat with the ability to run extremely shallow usually gets me to the fish first and that makes a big difference when the water is crowded. I have no doubt that Sunday will be similar to today, and I have one of my very best friends and clients. It will be a great day.
Till tomorrow, tight lines