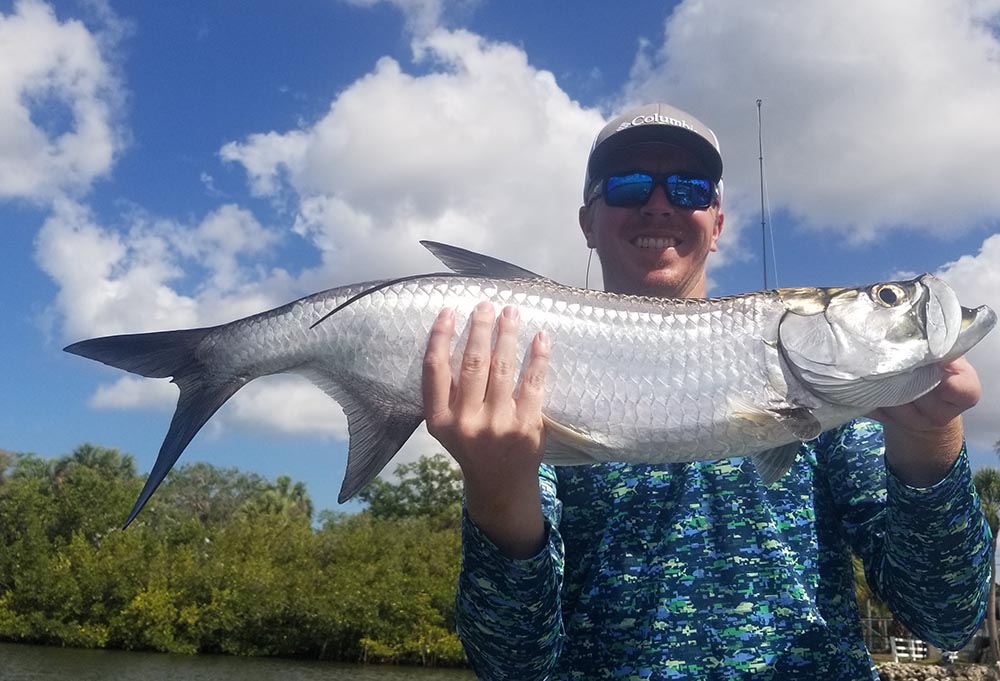 I know I'm starting to sound like a broken record but, wow, what a spring bite we are having. I keep thinking to myself that the bubble is going to burst, but each day the fishing just gets better than the day before, and the weather only gets better and even more beautiful. Daytime temperatures in the mid 80s and nighttime temperatures in the mid 60s are keeping the water temperatures at the optimal 75 to 78 degrees.
Just like the past several days I cruised out to the bait flat by cover of darkness and again I had the area all to myself, bait once again was very easy, three throws and I was on my way to pick up my charter for the day.
I once again met my charter at the docks at Anclote River Park in New Port Richey, these were new clients and I wanted to start them off right. I decided to start at a hole I had been crushing the big trout at on the high incoming tide, today I had the exact opposite tide, low outgoing, so I wasn't sure how the bite was going to be. We got there and set up and just like the other day, and again the bite was fast and furious and non-stop for the hour we stayed there.
After catching 75 or so big trout, the guys decided they wanted to go try for some of the snook I had told them about. I headed north to a little spot off of Port Richey that I had not been to in a while. This spot is a long undercut Mangrove edge that the incoming tide runs straight down, we got the boat in position and I had the guys go two at a time as room on the edge we were fishing was limited. The first couple baits drifted by unmolested, so I took a net full of chummers and sent them out to try and inspire a bite. It took a minute or two but the freebies started to get popped, and the snook gave away their location. We adjusted the boat and the next baits were smashed, we got one 30 inch fish and one that was unstoppable, however, she did give us a look at her when she jumped and she was large!
After we got done with that mangrove edge we slid back into a small bay to see what was in there, what we found was a huge surprise. One of the lines came tight and the drag started singing, and then it broke the surface doing cartwheels like only a Tarpon can do. We wound up jumping a couple and landing a couple. To say it was a surprise is an understatement, but the way this spring has been going, not much surprises me at this point. We finished the day off with a small school of redfish I have been playing with, and while they weren't fired up we did get a few to eat and stretch our lines.
I love having new clients as it usually means a lot of firsts will happen and today was no different, three first were completed, first Tarpon, first Snook, and first Redfish. As they departed the boat they assured me they would be back.
Back at it tomorrow hopefully the weekend traffic will be light, HAHAHA.
Till tomorrow, tight lines
Capt. Greg DeVault