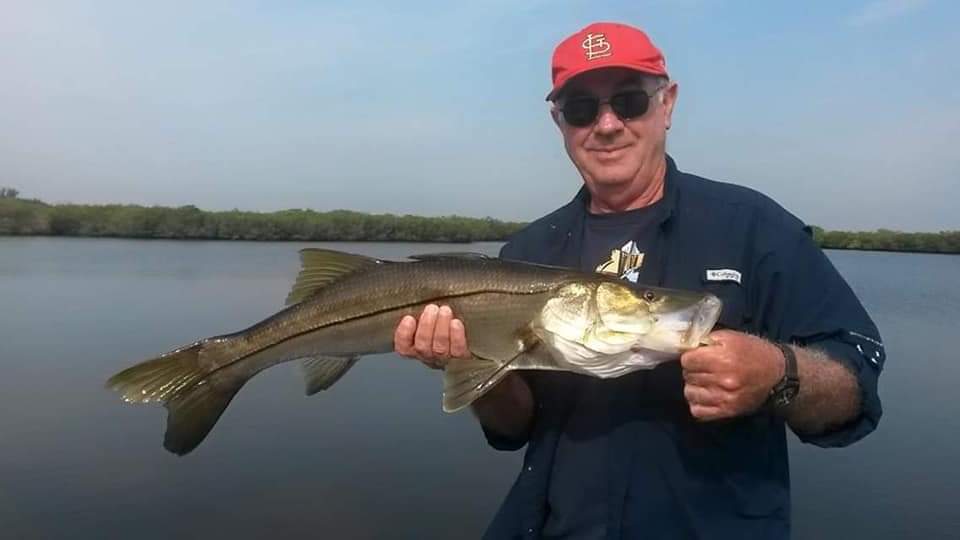 We are having one of the most beautiful Marchs I can remember in recent history. The weather has been absolutely amazing with light winds, and temperatures in the mid 80s. The water temperatures have reached 75 degrees and the fishing has gone absolutely haywire. We are experiencing one of the best bites I have ever seen for giant gator Trout, Snook, and I am seeing great numbers of redfish. The only thing that have not shown up in good numbers yet are our Cobia, but I am seeing a lot of big southern stingrays so they are not far away.
Now that the Bait and weather have stabilized my morning routine at the ramp has become pretty repetitive, the one good thing is the flat I have found bait on is still a secret, and I'm thankful for that as I drive by the flat I was using early in March and see 10 to 15 boats crowded and throwing nets. Bait is getting easier and easier, today it took about 20 minutes start to finish and it is big pilchards, which is what the Snook and big Trout want.
I met my charter for the day at Anclote River Park in New Port Richey, we had about 2 hours of incoming tide so we headed north to and area that had some rocks and a lot of current. The first bait in the water lasted about 2 seconds before and big trout devoured it, from that point on it was all I could do to keep up with baiting hooks and taking off fish. After 50 or so trout we decided to go and see if the snook would bite, so I headed north to another creek in the Hudson area that I have been fishing. We still had a good incoming tide and once we got set up the bite was fast and furious until the tide slowed and finally stopped. The size of the snook is defiantly increasing we had a few in the 30 inch range and one that we could not stop.
With the slack tide we decided to go and look for cobia until the water started to fall. We ran back south toward New Port Richey to the flat I had seen some big rays on and started our search, we came across 5 large stingrays but none of them had any followers. After 20 minutes or so we decided to go back to what was working. I had a little hole on the way back to the boat ramp that usually produced on the outgoing tide. We pulled in and again it was almost instant hook ups, the big trout were fired up and popping baits as soon as they hit the water. We emptied the well there and the jack cravelle showed up and even a snook or two.
At the end of the trip we caught at least 75 trout over 18 inches and a dozen or so snook to 31 inches. With the weather getting better and better and the water warming up, the bite is only going to get better and better.
Till tomorrow, tight lines
Capt. Greg DeVault