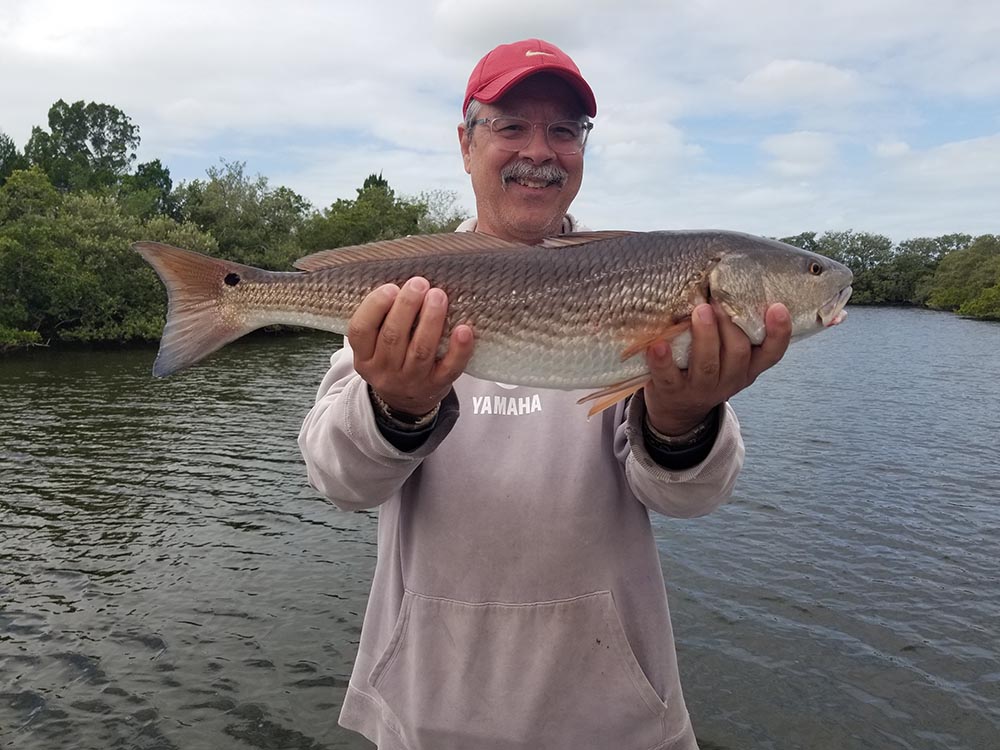 Finally, a day that wasn't too cold to start with. However we did have the wind and very low water again, but ill take it because the wind was east and the tide was just starting to roll in and the boat ramp was empty again!
Today I would be fishing one of my best clients and a couple of his friends, they fish with me at least 4 times a month and it is always a good time with lots of joking and usually a lot of catching. Once we got loaded up and heading out the river I noticed that the water temperatures had risen to a balmy 59 degrees, not optimal but the warmest starting temps I've had all week. I decided to head out to Anclote Island with the negative low and good anglers I was hoping that the Trout bite might turn on. However the water was still a little too cold for anything great, we got a few to eat our jigs but all in all it was not what I had hoped for. We left the island behind and headed back to the mainland with the idea of hitting the back bays and creeks looking for some redfish, and anything else that wanted to eat some shrimp. On the way back across the intracoastal we had to go by the last flat that I caught Pilchards (Bait) at, I figured I would check the water temperature. It was not quite there yet but it is getting closer and with the warmth of the next few days we should get there.
After checking the flat we proceeded to the first creek to see what we could get, there is one dock on the creek and while it wasn't loaded with fish we did catch redfish, mangrove snapper, and a flounder. The water was really moving good today as we are right on the full moon so we moved to a small cove that is very secluded and protected from the wind. As we worked our way in I noticed a large amount of mullet and a few redfish scampering away, I thought this was it, and it wasn't a home run but we did catch 4 very nice redfish up to 30 inches.
We were on a bit of a time schedule so we decided to move and try one more cove, by now the tide had slowed and so did our bite. The last hole gave us a good mix of redfish, black drum, snook, and more snapper.
Tomorrow finally looks like the day that our water temperature will get back solidly in the 60s, and hold there. One thing is for sure when the bait returns to the flats, the fishing is going to get hot as the fish will be making up for lost time. I look forward to the big Snook, Gator Trout, and Cobia that are right around the corner. Of course I wont have the pond to myself once we get the fair weather but that's okay, they got some catching up to do!
Till tomorrow, tight lines.