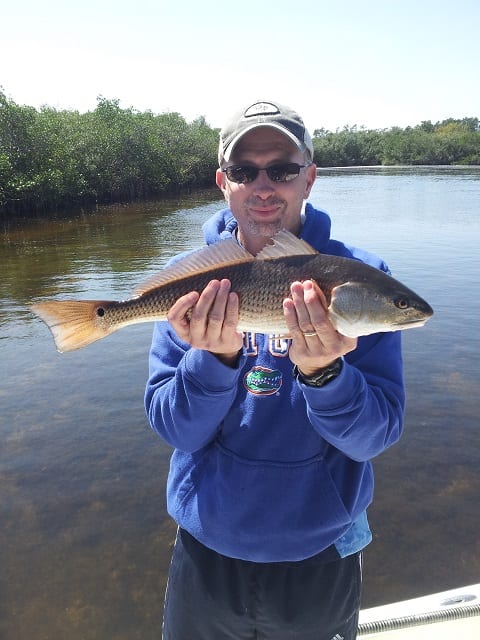 The calendar says its springtime, my book says its springtime perhaps someone should tell Mother Nature that it is springtime. I should have known today would be a struggle, first off the thermometer said it was 48 at 8AM, next I could still feel the North wind at my house (very protected), and finally we switched to daylight savings time, the time me and every other full time guide despise. But the show must go on and one of the benefits of Springtime is I am fishing everyday and it is easier to keep track of where and what the fish are doing. So as I drove to the ramp I was happy to hear that we would have east winds by noon, things are looking up.
I met my clients at the ramp at 9AM armed with an assortment of jigs and 100 of the prettiest shrimp a fish could want. As we eased away from the dock I noticed that the water temperature in the river was 56 degrees, not exactly optimal and the river was probably one of the warmest areas we would find today. My clients for the day just wanted to pull on some fish so that made things a little easier. We started in the Gulf Harbors canals that have deep water, lots of rock, and good current flow, all the things I was looking for except 70 degree water, but we did find some 60 degree water and caught Redfish, Black Drum, Ladyfish, and Mangrove snapper until the tide quit moving. The sun had actually come out so I was hoping we might get a little bit of a warm up, but with the north wind we had another giant negative low so the incoming water from offshore kept the chilly water in place.
There is only one real problem with low cold water, if forces everyone to fish together as there is not any water on the flats. This wouldn't be a problem if our water temperatures were closer to 70 as the fish would be scattered on the flats, and with the boats I fish out of I can get to there when most can not. But the temps are 60s and to make it worse it's the weekend! Well we bounced from spot to spot, with really no plan just looking for an open hole. The good thing was we were able to put together a pretty good catch and keep the rods bent most of the time.
We finally got to the highest part of the tide around 1:30 and it wasn't very high. I told my crew we were going to try to get into one more spot, so I jacked it up, trimmed it up, and let her eat, and we made it across a flat that kayakers wouldn't try. It dose help to have 40 years of experience at times. Once we got in the hole we were rewarded with a good bite of nice Black Drum, and small Redfish. My clients were happy and it was a great end to the day.
We will see what tomorrow brings as the forecast is shaping up and the wind is shifting to a favorable fetch. I have one of my best clients tomorrow so either way it will be a great day.
Till tomorrow, tight lines