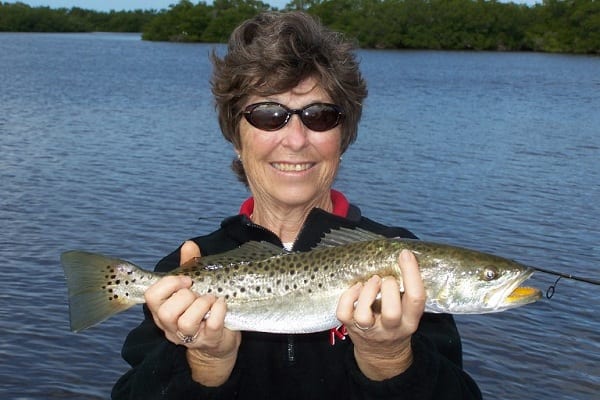 What a difference a day makes, yesterday we were greeted by 25 MPH South winds, high humidity, and fairly hungry fish. Today was 25 MPH North West winds low humidity and very uncooperative fish. None of this was a surprise as the weatherman actually got this one right, and I had already let my client for today know that we would reschedule to a better day, and had my day off all planned. And then my phone rang, it was a short conversation with a very determined angler that had his offshore trip cancel due to weather. It took some talking but he was able to talk me into giving it a try, and trust me it took some talking.
We met at the ramp at 7AM and there was already I stiff "breeze" out of the worst direction we can have it, NW. I once again warned that these were not optimum conditions for what we were going to do, but they insisted. So off we went to find some sheltered water with good tidal flow, and hungry fish…no problem. Well after two or three spots and two catfish we started to see the picture, however after 25 years I still have a few tricks up my sleeve. The water temperature was still 68 so I decided to try and catch some bait, It was blowing almost 30 by now and the water looked like chocolate milk but sardines have a good nose. We arrived at the flat I have been getting bait on and immediately saw no birds, no porpoise, and white caps, not what I was hoping for. I started chumming and threw the net, and to my surprise I saw silver, not a lot but enough.
So with our new bait I decided to change it up and fish some windy points, which were not hard to find. We caught a few Jack Cravelle and then had a big hit that we never turned, not sure what it was but I think a shark came though as the bite stopped on a dime after that. Unfortunately, that would be the best bite we had all day, most everywhere else we stopped and tried to fish was muddy or just to much wind.
The best part about today was I got to fish with Al and Craig two new clients on my boat that I would have not met if the weather had stayed nice. We had a lot in common as they are from New Hampshire and do a lot of hunting, We had a lot of time to talk about the hunting we have done in between bites. As I had warned, and I think they knew, the bite was slow. We did manage to catch a couple of nice redfish and the sun warmed it up to make it a pretty nice day.
Looks like we're going to cool down tonight so tomorrow's trip will have Shrimp and Jigs on the menu. Hopefully we get a little reprieve from the wind, but it will stay north so I will be doing one of my favorite things, fishing the potholes on a big negative tide!!
Giddy up,