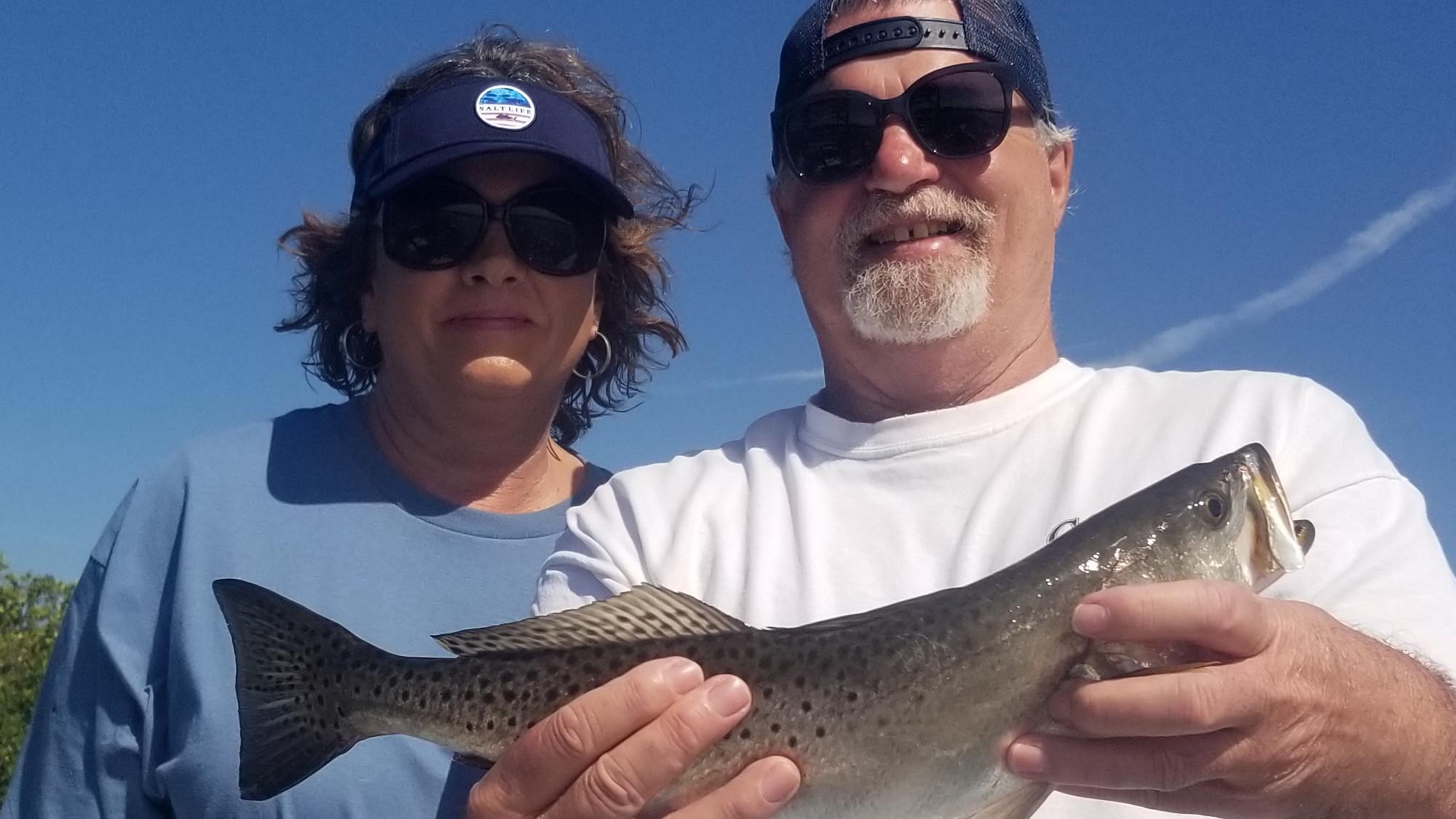 As I put the boat in the water this morning, I could feel the breeze blowing from the south. But as most in this industry know a south wind in the Spring is a very good thing. I was soon on my way to gather bait for my clients and I noticed one thing that was very strange for this time of year… I was all alone, just me at the ramp, just me idling out the river, and just me throwing the net for bait, It was a great morning.
As I stated before, I could feel the south wind, and as I broke the river I could feel it and see it. As I made my way south I could see pelicans diving and turns circling and figured bait was thicker today than it was yesterday. And the birds didn't lie, I wasn't easy but I had plenty of bait in short order today. As I started back to meet my clients for the day I could see schools of Jack Cravelle roaming the flats looking for food, all of these signals told me that it was a Spring day today!
I had a pretty solid game plan for my trip today and as I picked up my clients I could tell they were ready to get after it. Chris and his girlfriend Patty (who was a first timer to inshore fishing) got on the boat and we started catching fish right away. First were some Mangrove Snapper, Jack Cravelle, and Spanish mackerel, we bounced around fishing several rock points and channel edges on the big incoming tide we were getting. When Patty said she had the hang of casting and fighting the fish, we moved on to look for the bigger stuff. We moved to the north end of Pasco county to a creek that has some holes and bends in it, the fish have been lying in these holes waiting for the current to bring them a tasty treat or two. We got set up and drifted baits back with the current, almost immediately Patty's bait was crushed by something large. It took off like a bullet and made several hard runs, we got it right to the boat and could see it was about a 30 inch Redfish, but that is as close as he would let us get, with a shake of his head he won his freedom. I will tell you this, the reason we as guides do this is because of the sheer excitement of someone catching a fish like that for the first time. We stayed in the creek and caught a bunch of big Sea Trout, some small Snook, and a few more Redfish, but none like the one that got away.
By now the wind was whipping up pretty good so we hit one more protected spot in the river and were able to boat a few more small Snapper and some nice Black drum. We ended the day with lunch at one of our waterside restaurants and Patty said she was ready for more, I'm sure Chris was very happy to hear that!
Not sure what tomorrow will bring as we have another small front coming through tonight, but I'm sure we will find something to stretch our lines.
Till tomorrow, tight lines