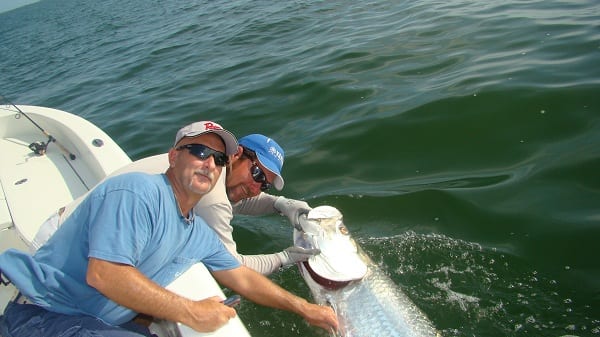 One thing that I have learned in my life is that it is much better to be lucky than good. and when you are good enough to be a little lucky it is even better. I have been very blessed in my fishing career to have had ALOT of luck, but at the same time put alot of hard work in to it to make that luck pay off! I have been fortunate enough to win 2 national redfish championships with hard work and lucky enough to have had my father fishing with me in both of them. I have been lucky to be apart of one of the most dominate Tarpon fishing teams in the past 10 years, that has won 7 team of the year titles with hard work and great team work. And I have been lucky enough to fish with one of my best friends and win many smaller tournaments with a combination of good skills and great timing. Then there is a great local tournament that I get to fish with four very good and very skilled fisher-women, and I think their record stands for itself. I think they have fished the tournament with me for 5 years now and every year they have been "in the money" with a great win last year.
Now this is where the "rather be lucky" part comes in. there are many different types of luck, the luck you make for yourself by putting in the time to make yourself a better fishermen, the luck you make for yourself by being prepared and ready for anything that comes your way, the plain old luck you get by dropping a really good redfish in the water…then catching an even better one. All of these kinds of luck have happened to me and my teammates over the years and I feel very "lucky" for that. But there is one kind of luck that you just cant plan on, and very seldom can you beat it. And that is plain old DUMB luck, it happens to all of us once in a while and everybody gets there  fair share of it. There is no rhyme or reason for it, it just happens. In fishing it is like the fish gods throwing you a bone, For example you go to a spot that you know is a heavily fished area and you have seen several people fish and catch good fish. You get stuck going in and have to push your way in, you sit and wait it out because you have no place else to go, and low and behold the stars aline, bells start to ring, and you manage to catch some fish. All you can do is smile and think I was just glad I didn't tear up my lower unit!
We have all been beaten more times by the last kind of luck than we would like to think, but it happens, and thank goodness it dose. Perhaps it is gods way leveling the playing field, either way it keeps it interesting and only make me work harder to do better.  And remember it is still better to be lucky than good….oh yeah one more thing, if you are going to try and follow be careful where you step, it aint all sand out there!