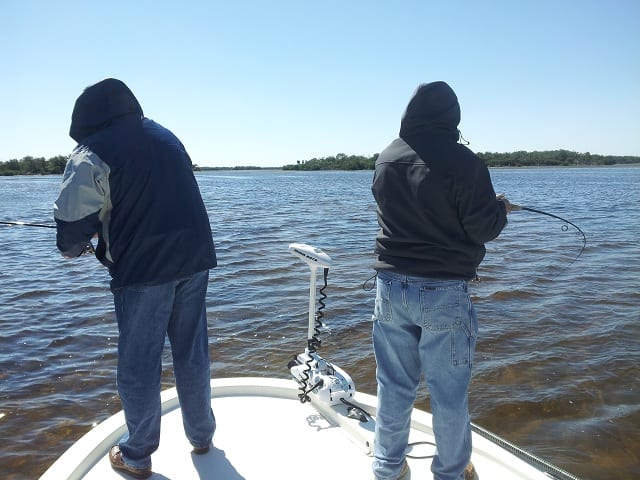 February has come and with it what seems to be the start of a very fishy springtime. While I have been out almost everyday the past couple months, it has been the past few weeks that I have been seeing more and more fish on the flats. And the Sardines that all the fish are looking for are here to.
The redfish are in big schools already, i have been fishing 4 schools for about two weeks now that all have around 100 to 200 fish in them. And the best part is they are eating very good, we have been able to catch them on both live bait and artificial s. The Speckled Trout have not been quite as good as I expected them to be by now, but they are here and they are big! If you find some fish away from the community holes you will catch plenty, but if you are sharing fish with others, be prepared to catch a few and look at ALOT.
Our Snook are starting to show up but mother nature keeps sending fronts our way to keep them in check for now. I think by the end of this month we will have a very good snook bite going and by mid March it will be full on. The other good thing I have been seeing while moving spot to spot on the flats are COBIA. Yes they have started to arrive and the ones I have seen are big boys to. While it is a little early for them to show up, they are here and I'm sure they will be hungry.
I know it is not warm everywhere but that is why everyone comes to Florida for vacation. The weather is great and the fish are hungry. If you are looking to get out on a Florida Fishing Charter make sure you are getting a full time guide that knows the area and has the right tools to get you on the fish at anytime. I pride myself on making sure my clients have a great trip and catch the fish they are after. Spring is our busiest time and days are filling up fast so if your looking to get out on a Tampa Bay Fishing Charter contact me as soon as you can.
Good fishing,
Capt. Greg DeVault
727-919-8666