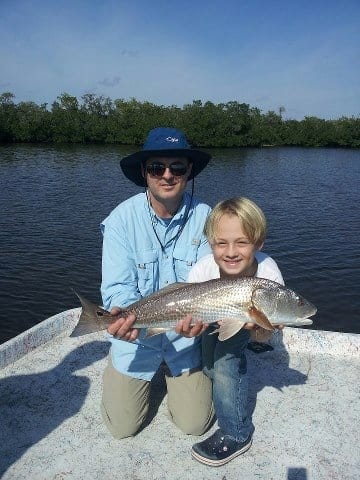 What a winter it has been! The past month has been absolutely beautiful as far as the weather has been concerned, mid 60's at night and low 80's in the day. And along with all this great weather has come some of the best fishing I have seen in years! Normally we are chasing Redfish and Trout this time of year as they are the only species that really tolerate the colder months, but with the warm weather this year the Snook have been very active and very hungry.
 We have been fishing mostly on the low tides that we get all winter, this forces the fish into the holes and troughs on the flats making the fish easy targets. and easy they have been. Redfish have been in very large numbers and aggressively feeding, the trout have been going crazy also, 50 to 100 a day have been the norm. And last but not least the Snook, they have been on the flats looking for anything moving so they can fill there belly.
This warm winter we have had is going to make for an early spring, with lots of fish and plenty of beautiful days to catch them on. Our spring usually begins in February here in Florida, and it is starting already. The bait that all our inshore fish feed on have started to show up, and with a few more weeks of warm weather we will be fully into our Springtime!
Here are a few pictures of the great fish we have been catching, hope you enjoy them and I look forward to getting out and catching them with you!
Capt. Greg DeVault
727-919-8666