After another cold winter that offered up some of the best fishing I have seen in several years I was ready for the warmth of spring to finally get here. Well little did I know that old Puxatony Phil would hit it right on the head this year. The little Rodent no sooner stated that winter was over before the Florida sunshine brought warm breezes and warm waters our way. It was very nice to be in Shorts and flip flops again looking for the little silver bait-fish we call Whitebait.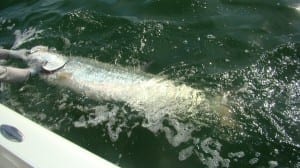 With all the warming up we did at the end of February we were able to get a jump start on spring, I had a few trips that we were able to catch sardines and the fishing was spectacular! We had inshore slams for everybody on several trips. It was good to see the Snook show up and feed after the past few winters they have had. They were very aggressive and looked very healthy, The redfish have been scattered out, but there are plenty of them, along with some very large sea trout. The Trout have been the mainstay all winter and with spring here the big Gator females will begin to school up and get ready to spawn. These are the days that we will be catch 30 or 40 of them up to 6 pounds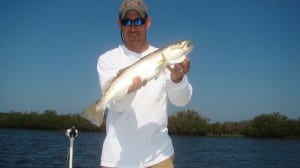 .
We are just starting to enter what I think is the best time of the year for fishing our area, we will have Snook, Redfish, Trout, Cobia, Kingfish, Spanish Mackerel, Sharks, and some Tarpon will start to show. And with the springtime weather it is one of the prettiest times to be on the water.
I have added a new boat to my fleet this year, it is a 21 foot Shallow Sport, this boat will carry up to 4 anglers and allow me to reach waters I never could before. No fish is safe from us now. My new Ranger will soon be here and it will be my Tarpon boat along with plenty of inshore duty to.
Now is the time if you've been waiting for some great fishing, check out what is available for March and April and get in on some of the best fishing  going.