Although it may sound like I'm a Alabama fan, quite the contrary is true. Born and bread in the sunshine state has left me with only two real options for collage fan support. It just so happened that I would have two father and sons on the airboat this week, that were alumni of each. Shane and Nicholas were the Gator contingent, and childhood friend Jeff and Weston took up for the Seminoles. I must say that the annual Florida- Florida State game was definitely a very good one this year, so you can tell where my allegiance lays.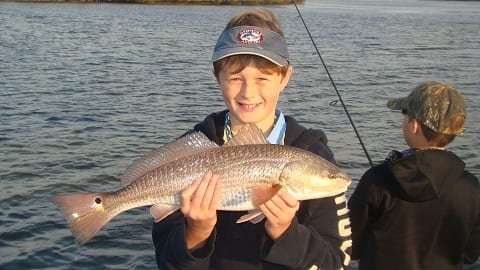 Anyway back to the fishing, with a weeks worth of airboat trips on the books it was time for some shallow water puddle jumping. The two boys were raring to go and the boat had not even come to a stop on the power pole before Nickolas was putting on a clinic. He quickly caught 5 or 6 very nice trout and then followed it up with a very nice slot redfish. The rest of that day was very entertaining with the boys out fishing the dads….At least that's the story i got. The second day was very foggy and almost felt surreal as I think we were the only boat on the water. The fish didn't seem to care though, today's was Westons turn to take the lead and put the boys team out in front. He did so with several nice speckled trout and a couple of nice Reds. However the dads where not going down without a fight and had it tied up by 10 AM. Then it happened, as if on cue from a ESPN commercial Weston hooks a nice fish to put his team back on top, and yells the words "ROLL TIDE" ! The whole boat when quiet for a moment then broke out in laughter. From that point on every-time….I mean every time the boys hooked a fish it was "ROLL TIDE"! It was funny though we could never get Shane ( the Gator Dad) to say it..couldn't figure that one out!!!
Well the fishing has been nothing short of spectacular this winter and it looks as if we aer going to have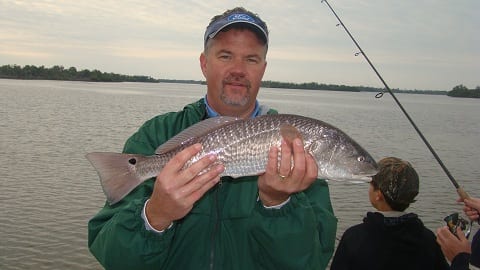 a much more consistent weather pattern from here on out. This will help set up for a very good spring, and the return of our bait fish and migrating fish wont be to long from now.
But for now I am still fishing the lowest water I can get and casting to fish that are holed up in the deeper potholes and troughs on the edge of the flats. The Mirrolure Little John and the Provoker have been the hot baits. There is nothing out there that wont eat them. I'm fishing them on a 1/8 and 1/4 ounce jig head and just bouncing them off the bottom, the fish have been fairly aggressive and it in very common to catch 10 or 15 fish out of the same hole.
If your not out enjoying this great winter fishing you better hurry it wont be here much longer, but the springtime fishing should be off the hook this year!
Get out and enjoy.
Capt. Greg
1-888-557-1885