Mother Nature has again been able to show us just how much global warming is taking hold of our world. This December has been one of the coldest on record again. The only good thing is that it was a gradual cool down unlike last years arctic blast that did so much damage.
The fishing however has been outstanding, I have been fishing out of my airboat on the negative low tides we get in the winter. We have been averaging at least 100 to 150 fish  a day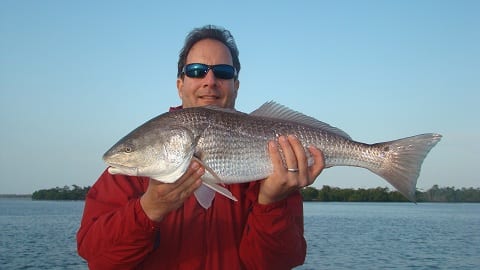 with Redfish, Specled Trout , and surprisingly enough a good number of Flounder. I have been targeting the pot holes and troughs on all the flats in Charlotte Harbor, the low water forces the fish into these holes and they are sitting ducks. We literally catch every fish out of the hole, then fire up the motor and move to the next one and do it again! One of the best parts of fishing out of the airboat is that I have the area all to myself, not even a kayak can go where I can. It is a great way to fish and a very exciting way to see all the natural beauty of the Back country.
I have also been doing very well back to the north around New Port Richey and Tarpon Springs. I have been fishing out of my Banshee Extreme skiff and doing very well here to. I have been targeting the back bays that are out of the weather and have dark bottoms that retain heat from the day. My charters have been catch over-sized redfish along with a good number of slots and some very nice trout.This has all been done using soft plastics on jig heads. The Mirror lure Lil John has been the big producer in the golden bream color, if you aren't using these you should be.
This has been one of the busiest Decembers and January I have had and I think alot has to do with how good the fishing has been, It looks like we are going to have a normal winter the rest of the way which should make for a fantastic spring. It is right around the corner so get ready for some great fishing were coming up on the best time of year to fish our area.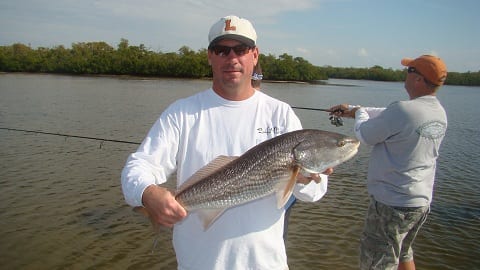 If your ready to go fishing
call 1-888-557-1885