As most of you know I look forward every year to this time of year. The north wind pulls the cold air down from the north and while other fishermen stay in the warmth of there houses we are out absolutely hammering the fish with no competition. I know your asking why would anyone sit home if the fishing is this good, well I have a small advantage over them other guys….I fish out of my airboat during the winter which allows me to access water that outboards cant even think about getting to. This is the reason I love to feel the cold north wind blow, it makes our low tides even lower and alot longer. The fish get trapped in all the holes and troughs and I drive up to them and me and my clients catch fish all day long.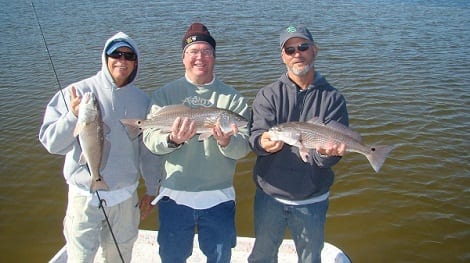 December 2 was my first trip of the year and it was chilly to say the least a cold front had past right on time and the wind was out of the north east. My clients for the day were a surprise set up by a good friend and partner on our PTTS Tarpon team. The surprise was that our team Frank, Artie, Jon, and me were going to fish for the day. needless to say the fish would not have the advantage today, as all of us are very accomplished fishermen. When the day was done we had landed 125 redfish and a couple dozen trout with a flounder and some other stuff, Jon was the big winner with 38 or so redfish. The next 3 trips were very much like the first we did not have a day that we did not break the 100 fish mark. One of the best parts of these trips are all we use for bait in artificial lures, so for those that are not sure of how to use them, by the end of the day they are pros.
This type of fishing will continue through out the winter and usually only gets better as the water cools off. As long as we do not get the bone Chilling cold of last year, it looks like it will be another great year for jumping around the holes in the airboat. As for the fish I tend to target mostly reds and trout this time of year. They are much easier to target with the cold water and will not get lockjaw as badly as some of the other inshore species. I like the lowest water I can get no matter what boat I'm fishing out of, the low water groups the fish together and forces them to become competitive for food. When you find the right hole you can sit there for hours and catch fish on every cast.
Good luck dress warm and get out there, and if you hear the big fan blowing you are probably close to the fish!!