We are very blessed in the state of Florida to be able to fish all year round and have beautiful weather for most of it. With that being said, there are 4 months in the year that are the absolute best for fishing and just being on the water. March and April in the Spring and October and November in the Fall, these 4 months provide some of the most beautiful days of the year, and the fishing is of the charts.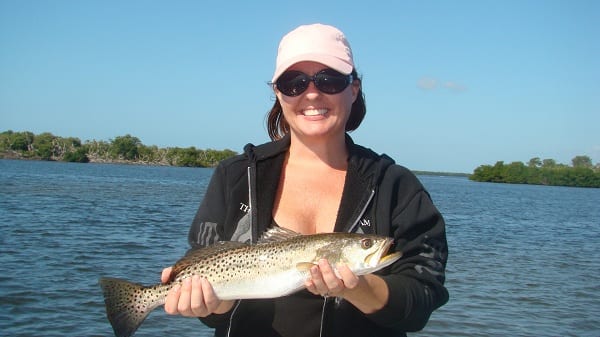 This November has been one of the Best I can remember, the fishing has been absolutely spectacular, and we have had a run of the prettiest weather I have seen in a while. I have been running alot of charters in both Charlotte Harbor and Off of Anclote, and both places have been producing very good catches. This is the time of year that our most plentiful fish becomes very aggressive and is looking to eat anything that moves. I am talking about our Speckled Trout, they are moving into the shallow holes and troughs that cover the flats in both areas. In some cases they are so thick we were catching them on every cast for over 3 hours, They are averaging about 20 inches and with the lighter tackle that we use in the cooler months, they put up a very good fight.
The best part about fishing the holes this time of year is that you never know what is going to eat your jig. We have been catching Redfish, Trout, Flounder, Bluefish, Ladyfish, and black Drum all out of the same holes.The only key that we have had to watch for is the mullet, if they are in the hole you will catch fish. In the fall it is normal for the sardines we use for bait to come and go, I will usually not even mess with them as the fish will eat just about anything in front of them as long as the mullet are in the holes feeding.
This is a great time of year to break out the fly rods also, the fish are aggressive and you can approach them very easily, the word picky is not in there vocabulary right now. During the month November most of the charters I ran were very successful, we have been averaging at least 75 fish in a 6 hour trip.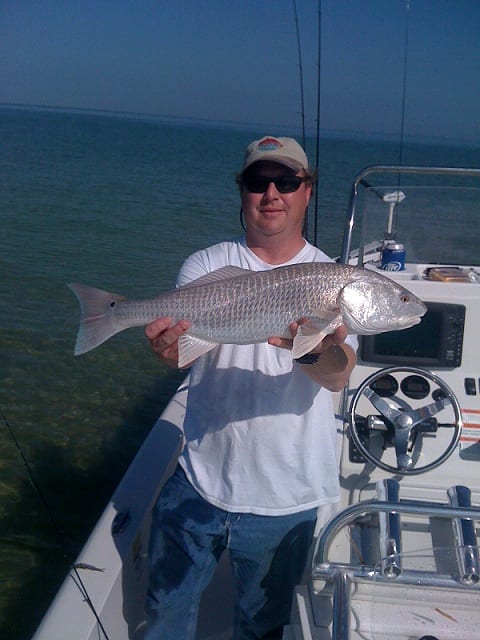 Hopefully the weatherman is right in his prediction of a warm winter, if he is and this warmer than normal weather persists it will be a banner year for fishing through February. The bite will stay red hot as long as the water temps stay in the low 70's
Now is the time to start making plans if you want to get in on the best fishing we've had in a while, December and January are filling up fast so give me a call if your ready to go.