Spring is in full bloom now and everything that swims in our waters knows it. Although the big migration of sardines has not made it here yet, there are plenty of the silver crickets to go around. The weather has turned into what Florida in the springtime is known for. Cool mornings and warm days with light winds to keep it very comfortable on the water.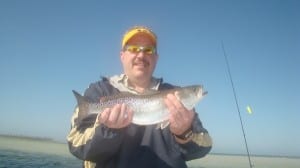 The fish have also been enjoying the warm up, Speckled sea trout, Redfish, Snook, and Mackerel have all began to search out food. The Speckled Trout have been the biggest hit so far this spring with at least 50 to 75 fish on every charter this past week. Most of the fish have been over the 20 inch mark with several making it to 25 inches, these are great fish that pull hard and are very aggressive. The redfish are still scattered around a little bit but they to are starting to eat very good for me, we had several days that we put 10 or so nice fish in the boat. The best sight this week was the way the snook have responded, the water finally got to the magical temperature and the snook responded very well.  5 out of my last 6 trips this week we caught snook and on 4 of them we had multiple fish as many as 15, the big girls are starting to show also. We had fish that e could not stop from getting to the mangroves and others that we just got lucky with, it was great to see these big snook hungry and healthy.
I took the opportunity of great weather early this week to take some client offshore to see if we could find any Kingfish or Cobia. While the water temps were still a little cold we did manage to see a few but could not get a hook in them. We did manage two very nice Grouper that went home for dinner though.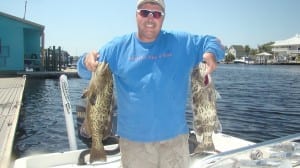 While today's trip was postponed till next week due to the small front that passed here this morning, it looks as if we are finally going to get a great spring of fishing. It may be a shorter window that normal but it has been so far, very good.  So if your thinking about getting out there quit thinking about it and go!!
1-888-557-1885