It has been a few weeks since I have been able to sit down and write about what has been going on. But what a difference a week or two can make, warm air and warming water temperatures have the coldest winter in our history running for cover….FINALLY! Well between a full book of charters, filming some segments for Proanglers TV, and BackRoads and Backstage with Danial Lee Martin, and then fighting off a nasty cold for the last week, I am glad to have today off!
March was a very busy and full month, it started cold but ended up quite nice as far as the weather goes. I was able to rune 15 charters , while filming 3 different TV shows and fishing two redfish tournaments. Hopefully the rest of the year is not as packed as March was, but with the warming of spring here and the fishing really starting to explode, my calendar just keeps getting busier. But I am not a complainer and I'm very thankful to all of my clients and hope they have had a good time fishing with me this year and the years past.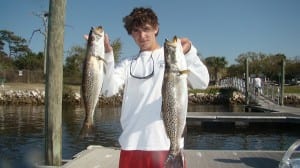 As I said the fishing has really started to open up as the high pressure that we are used to, has finally moved in to take control of our weather. The water temperatures have finally reached the 70 degree mark and the fish are acting more like spring breakers rather than hibernating bears! Although we have been catching bait since late February the last couple weeks have really seen a big difference in the aggression the inshore fish have had toward them. We are seeing the redfish and some snook respond to chummers in the way we are used to, and the gator trout are doing back flips for them. Most of the hard rocky areas from Dunedin north to Aripeka are holding large schools of trout getting ready to spawn. We have caught several fish in the 5 and 6 pound class the past two weeks, with alot in the 3 to 4 pound range. If you do find a big bunch of them just remember the larger females are the reason we have a great fishery, so release them and keep the smaller trout if your looking to eat a few.
The redfish have been starting to get together, but a few cool northerly blows the past couple weeks  has kept them in smaller groups. I have been doing best on them fishing the highest part of the tide, they seem to be looking for areas that have some protection from the wind and a solid bottom. We were able to get them to eat live sardines last week but before that they would only take cut bait or shrimp.
The other drum that became very popular during March was the Red drums cousin, the Black drum. There have been a couple schools around, I have been to one in Tampa Bay the other is in Pasco.  The Tampa fish have become very popular the past couple of week s, and are getting alot of attention. They have been roaming the area for almost two months now, and if you can get a shrimp in front of them you will get bit! They are alot of fun and are averaging about 30 pounds each. The fish off of Pasco are not quite as big, but neither is the crowd fishing them…in fact I have not encountered another boat on them yet when I have been to see them. I would expect these schools to stay for a few more weeks until there spawning is complete then they will retreat back to the deep water they came from for another year.
Last but not least is our snook, they are still here and we seem to have quite a few left after the cold. I have been seeing more and more of them poking out of the rivers and canals looking for food and warmer water. We actually had a few bust some chummers in canal while fishing a dock. We could get one to commit to a hooked bait but they are starting to get frisky and I'm sure there will be several caught this upcoming week.
I would again like to thank all of my clients for keeping me this busy, I'd go crazy if I had to look at a computer all day!!  I look forward to seeing alot of you over the next few months as I only have a few days that I'm not on the boat with some of you. I'm looking forward to a great spring!