As we come to the end of January, we are still in the grips of the coldest winter I have ever experienced. But just like every year I look forward to the month of February. February means we are on the verge of our best fishing of the year. While it may still feel cold there will be a noticeable amount of humidity with the morning sun. We will start to see a gradual but very definite upward climb in our water temperatures. And if history repeats it self ( as it usually dose) we will see the bait fish show up in all the regular haunts. Once this occurs we will be standing on the edge of 4 months of the best fishing our area has to offer. The Redfish, Trout, Snook, and Mackerel will all start trying to put back the weight that they lost over the diet period of winter,this will offer us as fishermen a very unique time. The fish will feed with reckless abandon, and forget about some of there weariness around the boats and other disturbances we produce. In essence the fishing will be good and it will be easy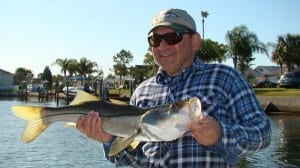 .
But as I look outside I see a beautiful day with alot of sunshine, but mother nature is not quite ready to let go of her wintry grip just yet. The weeks weather forecast says we are in for another cold front at the end of the week. The fishing will be good ahead of it, but the cold air behind it will reinforce why the fish are in there deep holes and warm springs for a few more weeks. And while I look forward to throwing the net to catch dozens of silver crickets, I am preparing for another round of airboat trips. The water is very low and access is denied to most, but with the help of my airboat I have been able to find a redfish or two this year. This is a fun time of year but with everyday we are coming closer to the best time.
So get the tackle tuned up, make sure the boat is ready, spring will be here before you know it. Or if you want to make sure your at the best spot at the best time call your favorite guide and set up a spring time fishing trip. You wont be disappointed.
1-888-557-1885