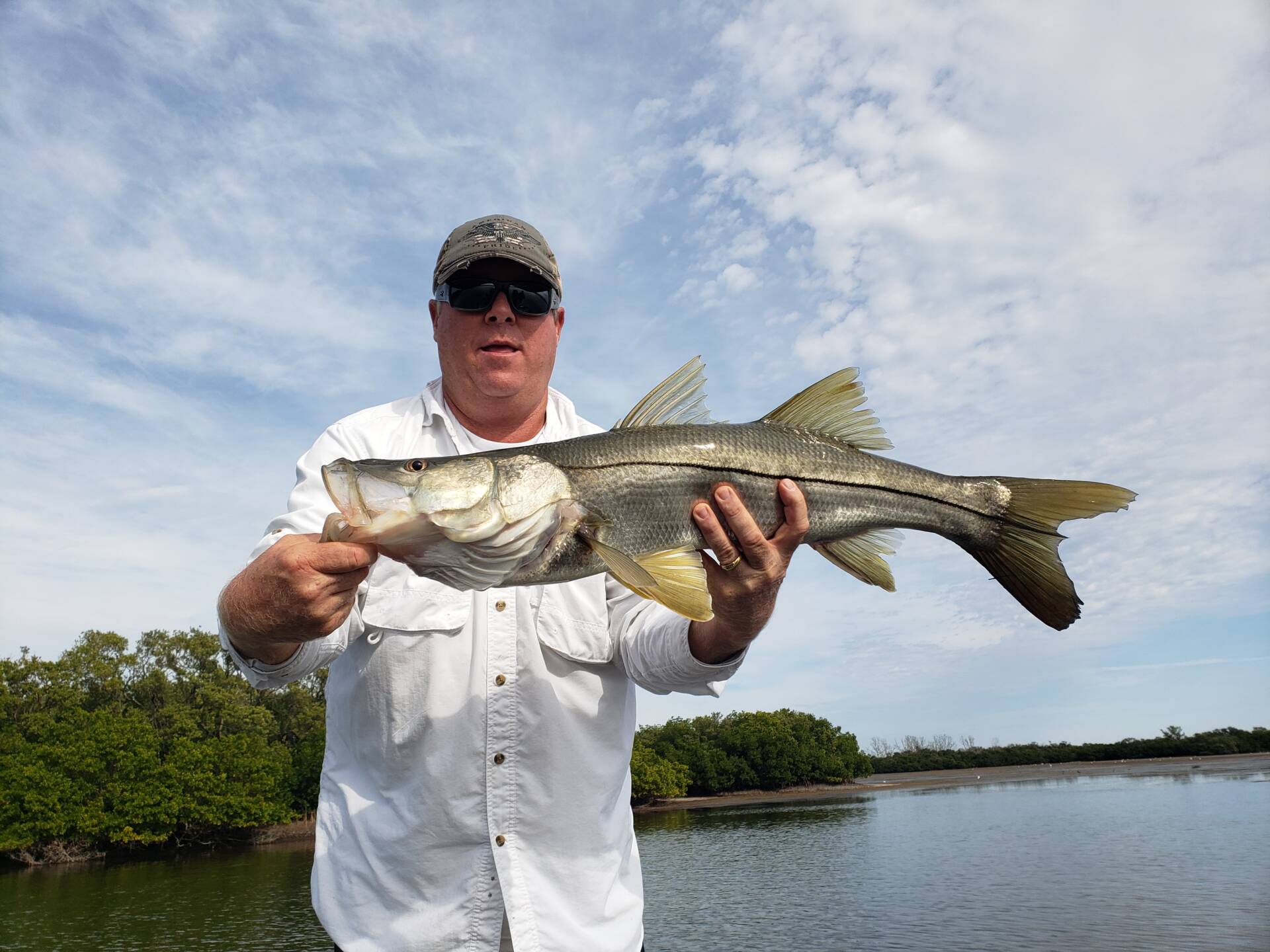 Well it has been a while since I have typed up a report, but I have a couple good reasons. The fishing since my last report has been absolutely incredible, with so many Snook, Redfish, Trout and many others coming to the boat that I did not want to raise the interest of some that like to…well lets say "follow the bent rod pattern". So I just kept the great fishing between my clients and me. The other reason I had such a gap in reports was that I was slammed with work and really didn't have the time or energy to sit in front of a keyboard and type. But today it is windy, cold and rainy so I finally had the time, even though the fishing is still spectacular !!
This time of year is by far my favorite time to fish, although we did catch bait up until Thanksgiving and caught a ton of great fish on them, now is the time when the true fishermen shine. The north winds have begun to blow and have brought with them the cold touch of winter, this means the bait that many can't fish without is gone until late February and artificials will now rule the game. Another game-changer is the biggest negative low tides of the year are now taking place, and I have one of the only means of getting to the fish that these tides trap. I have been taking my clients to holes that most can only see from a distance for over a month now and we have been catching some great Snook, Redfish, and Gator Trout. 100 fish days have been the average since mid-November, and it will only get better and old man winter sets in the next couple months! 
The part a love about fishing this time of year is I can take my clients to water that is all ours, we do not have to share it until the tide finally comes up. And by then our day is done and they are wore out, and we do this all just a few minutes ride from New Port Richey, Hudson, and Tarpon Springs. We have been fishing the holes and troughs that hold water on the biggest low tides, and at times we are catching fish on every cast. The great thing is when the fish are this aggressive you can build confidence in anglers that are not used to using artificials.
I always ask my charters to check in with me to find out when the best tides and bites will be, but because of the lack of others fishing in the area there have not been many days that the bite was not stellar, just some days better than others. 
As I watch it rain I will finally have time to get Tackle sorted and reels respooled, the book is full and the fish are hungry. If you would like to get out for some of the best fishing we have seen, get ahold of me as I still have a couple days left in January.
Tight lines,
Capt.Greg DeVault