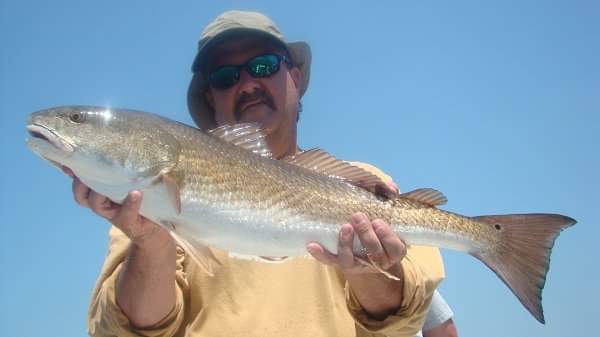 Todays forecast was much better than yesterday's for sure, no rain light winds and temperatures in the high 80s. And again our weatherman missed it by a mile, I drove out to get bait in the rain and by ten o clock it was blowing 20+ knots, at least he got the temperature right! The rain was not a deterrent today as it had stopped by the time I got set up on the bait flat. I was hopeful for another easy day throwing the net, and I was finally rewarded, it only took three throws of the net to fill the well with beautiful pilchards. I had a little extra time before I had to pick up my charter so I decided to do a little scouting, it is always a bonus to be able to locate fish for future trips, as I usually have just enough time to get from the bait to my clients during the average morning.
After doing some looking I headed north to the Cottee River in Port Richey to meet my Charter. The sun had come out and the wind had not yet started to blow so I decided to run north of Hudson to get away from the weekend crowds. We started in a little back bay and had to wait on the tide to start moving so we would have a little depth for the fish to be comfortable. Once the water started moving we got a few good bites and turned them into Snook, but as soon the bite started it seemed to shut down just that fast. We moved to another little bay and had the same result, I'm not sure why, but it seemed like we could only get one or two bites at each stop. Once the tide got high I decided to go to an area that I had not been to in a while, it was a big flat that was solid rock and usually had big Trout and redfish on it. As we pulled in the wind had started to blow so I let it push us into the area silently, we got set up and put the bait out, it took a while but the fish finally moved in. we hooked big Gator Trout two at a time for thirty minutes or so, and just as fast as the other spots the bite stopped, at least we got more than two to bite. We decided to run back south off of New Port Richey to look for Cobia, it was pretty windy but the sun was bright and high in the sky and with the gin clear water I could see very well. We looked for almost an hour and only saw two stingrays, I'm not sure what happened to our stingrays and cobia this month but they have been noticeably absent. 
We moved into a very small bay that gets very little pressure and on a busy day like today that is what we needed, the tide had just started going out so I was hopeful for a good bite. It took a couple moves but we were able to get a decent bite going, a couple nice Snook, a few Redfish, and some Jack Cravelle were all there to fight. As we headed back in the river going toward the dock, I began to understand why the bite was short in most spots, as it was like a parade of boats going both in and out. Thank god tomorrow is Monday and the traffic on the water will be light!
Till Tomorrow, tight lines
Capt. Greg DeVault