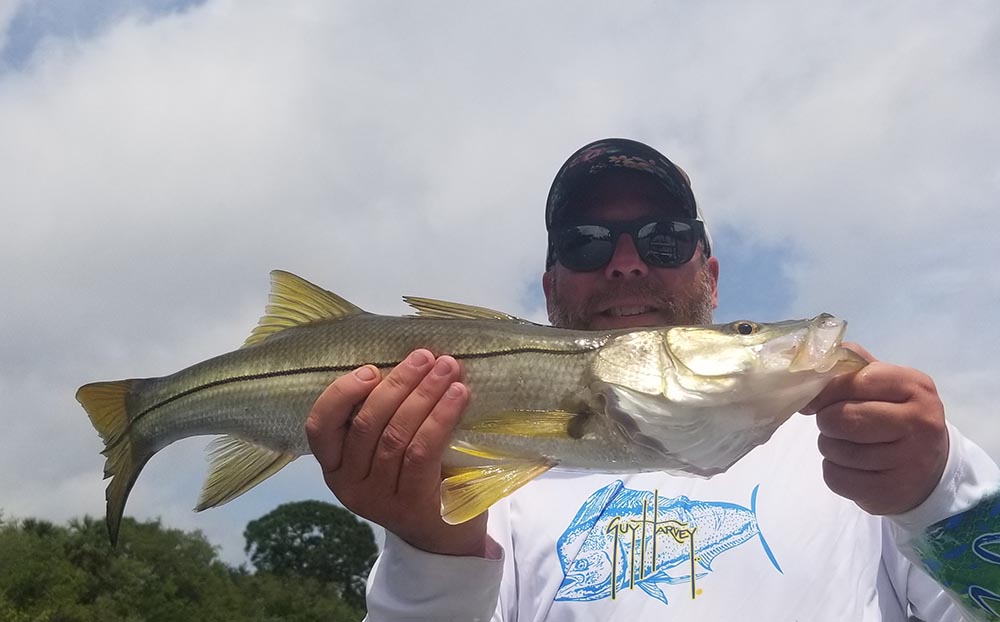 Mother nature finally put her foot down on the unbelievable spring bite we have been having, but she was gentle about it. The small front that we had come through a couple days ago ushered in some cold dry air and a stiff north wind for a day. It wasn't much of a change but it did drop our water temperature's back to the upper 60s, and that is like pushing the brakes on a car to the fish. The good news is by the end of my trip today the water was up to the low 70s, and with a warmer night tonight we should be back on our way to another good week.
I had a pretty good idea that bait was going to be a little tougher this morning so I pushed back my charter pick up time to 9am, I really hate it when I'm right sometimes, all that meant is I would be throwing the net more than twice today. I started chumming right at daylight and after 15 minutes or so I wasn't seeing the kind of activity I had hoped for. But after the first throw of the net there was hope, as I pulled the net over the side I had a couple dozen pilchards in it, a far cry from the 200 I was getting just a couple days ago, but something none the less. I took several throws but I was able to secure enough bait to fish for the day.
I cleaned up the boat and headed to Anclote River Park in New Port Richey to meet my charter for the day, we had an hour of incoming tide left so I decided to run north off of Hudson to maximize the water flow. We arrived at a small dead end bay with a couple docks on it that had been holding some snook, the water wasn't moving like I had hoped but it was moving some. We put some baits up by the docks and had a fish on in no time, he wasn't a giant but it was a snook and it broke the ice. We wound up catching a few smaller snook before the tide quit and with it the bite did to.
I ran back south to a canal off of Port Richey where a small cut had been funneling the water on the outgoing tide and holding some fish. We arrived and got set up but for some reason, we had no water movement, and for some strange reason never got any outgoing movement the rest of the day. We were able to get some Jack Cravelle to eat there but that was about it, I suggested that we go and look for Cobia on the flats and see if the tide would start moving. I pulled in to the flat and started looking and immediately spotted two large fish free swimming, we got a bait in front of them and the bigger of the two jumped all over it. The second of the two cobia was trailing the hooked fish and I was able to get a bait to him and we had a double on. Both fish pulled drag and made strong runs but the second fish managed to somehow lose the hook. We concentrated on the first and bigger fish and got it to the leader, but that is as far as we would get him, the fish twisted and flipped as Cobia do and straightened out the hook. Not the ending we wanted, but we got to pull on two big Cobia and got to see one up close and personal.
Like I said Mother Nature was gentle and she let us catch some great fish but the fight with Cobia would be the last substantial fight we would have today. But with a warm week forecasted and a new moon a few days away the upcoming week is going to be off the hook!
Till tomorrow, tight lines
Capt. Greg DeVault