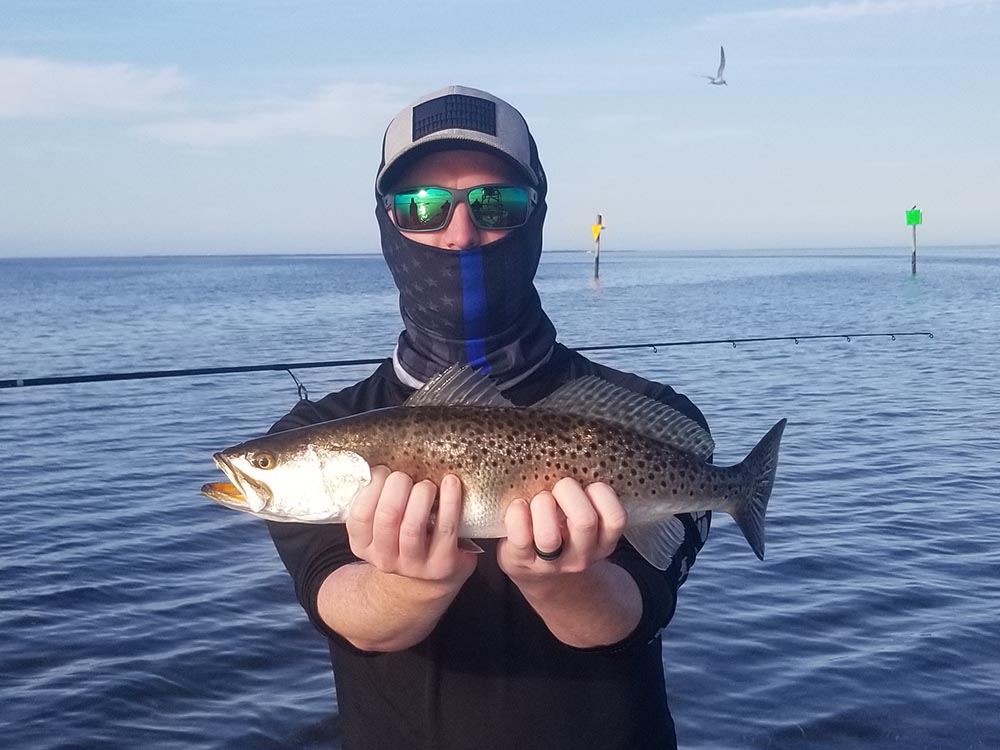 Boom, and just like that it was spring again. It is always amazing to me just how fast the conditions change on our water. On Saturday the water temps were struggling to get above 52 degrees, and 5 days later we are sitting at 70. I had to work my tail off on Saturday to catch a handful of fish for my clients, today it was just stupid, every bait was devoured, and every spot was loaded with fish. It is just crazy how tough the fishing can be and how fast it bounces back. This is the main reason I always tell my clients if you're going to be here for a week or so book more than one day, you won't be sorry. 
I had a good feeling about today but man, I didn't realize how good it was going to be. I had my clients meet me at the ramp this morning and go with me to catch bait. We arrived at the bait flat just as the dawn was starting to break, I started chumming and after 5 minutes or so decided to throw the net and see what we had. I was pretty confident after yesterday that bait would be easy today. My first throw yielded absolutely no sardines, not the start I was looking for. But I could see I was parked over a sand hole, so I moved about 20 yards and reset, the next throw was much better as I had 100 or so pilchards. I made 2 more throws and off we went to catch fish.
 We had about an hour left of a fairly low outgoing tide so I decided to start on some rock piles that have been holding trout, we caught a few but the tide stopped and so did the bite. I moved into a deep canal that I had seen some fish at yesterday and as soon as the tide started in the bite went insane, Snook, Trout, Jacks, and redfish all started feeding like they had never seen bait before. We sat on those fish until the bite finally died down, we then moved north to a small cut that I knew would have good current flow through it. We arrived just as the water started moving and again the bite was crazy, it was mostly snook here but we did get a few trout and several jacks. The Tide was ripping through the cut and as we free-lined the baits in, the fish seemed to be lined up and waiting for them. We had snook on three at a time for most of the time we were in this spot, nothing huge, but several in the 24 to 28 inch range. I'm sure once the water temperature rises another 3 or 4 degrees the big girls will be ready to play.
 We were getting close to the end of the trip so I told the group we would hit one more spot in the river that is notoriously full of jacks. As we set up I dropped in a few freebies and they were crushed almost immediately, we baited up and had a jack party with the rest of the bait.
It was a great day with great client who I know had a great time, the weather is set to only get better and with everyday for the next few weeks booked I am ready for some great fishing!!
Till tomorrow, tight lines