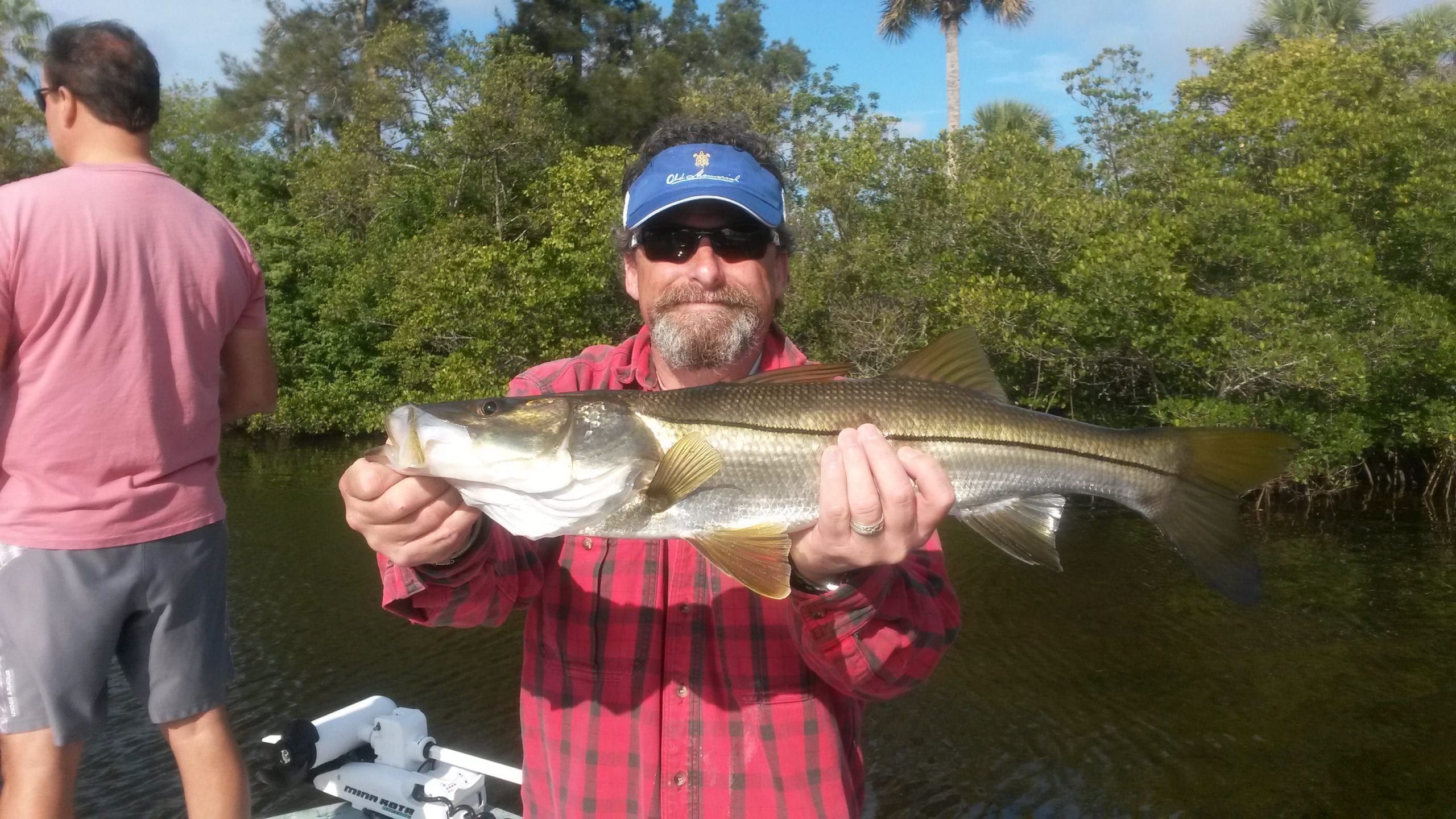 This has been a very constant year to say the least, a cool winter has led to a warm and very mild spring, and that have led to warming April winds. And through it all the fishing has been FANTASTIC, lots of big Snook, Redfish, and an abundance of big Trout.
The only draw back has been the Sardines that we use for bait, it has been tough to get and non existent for some. Luckily i have had a few little hidding spots that hold them and Ive been able to keep my clients fishing with the bait that the fish really want this time of year. This is the time of year that everybody waits for, Snook, Redfish and Cobia take center stage and that is what everybody is coming to catch. This spring has not disappointed in that aspect. This has been the best year in the past 15 years for Big Snook ( 35 inches +) they seem to be on every point and deep trough that has good water flow, and they are eating like they are starving!! The Redfish while not as thick as the Snook are here and when you have the right feed and approach them on the right tide you can have some big days 15 to 20 fish days are not uncommon. The Cobia have been going in and out with every little front we get, but when they are here all you have to do is get a bait in front of them and it is on. I have had a big advantage over them with the new boat and the hight i gain by using the tower on it. Once we spot the Cobia i am able to follow him and get the cast we need to catch him. There have also been loads of Trout and Mackerel around to but I very early target them this time of year as most of my clients would rather catch the big 3! If you are going after them though any of the Barrier Islands such as Anclote and both of its Sand bars are loaded with them, along with all the rock bars from Gulf Harbors to Dunedin, with Trout you will usually have company as once the school is found everybody will get in on the action.
Next week will be my last week in the north area as It is time to chase Tarpon in Boca Grande, the fish have been there for a while now and i can't wait to start flying some Tarpon. I do have some afternoon trips still available but the mornings are booked solid until mid July, but give me a call if you want to catch a king, if I can't take you I can help you find a full time Capt. to put you on one.
Capt. Greg DeVault
727-919-8666