It has been a while since I have posted my last report. I have been down in Boca Grande for the last 3 months chasing and catching the worlds greatest inshore game-fish….the Silver king, also known as Tarpon. The past 3 months are one of the busiest times of year for me, I am fishing almost everyday and on most days I am running two trips. needles to say it take a little while to recuperate from all the fishing I do. But I am not complaining at all, and I am very Lucky to have such a great client base to fish with every year. They truly make my job easy and very exciting.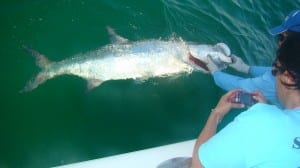 Now on to the fishing, it was an outstanding year for Tarpon in Boca Grande this year. I cant remember running a trip that we did not fly at least one fish with most of the trips recording multiple hookups. We did alot of beach fishing this year as the tarpon stayed out of the pass for a while. We were able to take advantage of it by throwing live crabs and threadfin shad at them. While you usually do not see as many fish on the beach as you will in the pass, the strike and ensuing fight can be even more spectacular. You get to see almost every hit and the fish are much more acrobatic on the beaches shallow waters. There were several days when we would find a school of tarpon at daybreak and have one or two to the boat by 7AM. It was a special time on the beach for sure this year.
The big pass was not neglected by any means this year. The Tarpon poured into Boca Grande Pass like they do every year and when they did they were extremely hungry. There were days that you could not make a drift through the mountains of tarpon without getting a hit. It was like the days of old, everywhere you looked there were people fighting tarpon. Some of the biggest fish of the year came from the pass this year, I heard several tales from other captains of fish well over the 200 pound mark and had a few myself that I'm sure would have broken that mark. I had one for sure this year caught by a very good client that tapped out at over 220 pounds, the fish was 84 inches long by 45 inches around!! She was a true giant tarpon!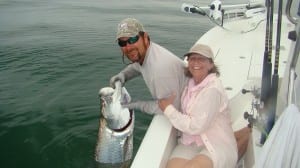 As the season wound down I started to run some trips back up in the Tampa Bay area. We have been able to catch plenty of fish in the Bay this year. A good friend of mine Capt. Clay Eaverson has been tearing the tarpon up at the Skyway bridge jumping almost 30 fish this past week, he is dialed in for sure. I was able to hook and land a 50 pound tarpon on a recent trip out of Port Richey. The special part about this fish was the tackle he was caught on was meant for the snook we were catching. It took about 35 minutes to land the little guy but on 15 lb line and 25 lb leader I didnt think that was half bad.
With the hottest part of summer on us the focus will be slightly offshore and for tarpon in the upper reaches of Tampa Bay. The close rock piles and wrecks will hold snapper, Mackerel, sharks, and cobia and we will be chumming hard for them. This is fun fishing with ALOT of action. The Tarpon in the upper bay will get better and better as the fish push up there to feed on the bait that has accumulated. This is a early fishery and we start around daybreak and are usually done by noon.
Hope you all are having a good summer and if you are looking to do some fishing now is a very good time light crowds and lots of fish….oh yeah and no oil anywhere around us!!
1-888-557-1885