Even though the air temperature were in the 40's when we started, it was not long before my clients were feeling all warm and fuzzy from the pull of redfish. With the tides at there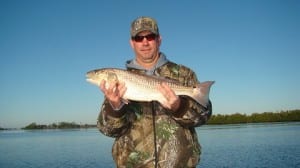 lowest and the help of my airboat, we were able to access all of sand hole and small troughs that the redfish and trout use to wait out the tide in Gasparilla sound.  We had to hit about 3 holes before we found the one that was holding a large bunch of fish. Once we got set up on them it was game on for the next couple of hours, redfish and trout came to the boat after falling prey to our Mirror lure Lil John baits. There were several slot sized redfish and most of the trout were in the 18 to 20 inch class. After the bite slowed we were able to go farther into the back country and find a large hole with a good dark bottom. The tide had started to come in and the trout were laying on the edge of the flat waiting for what ever the tide brought them. We set up on the back side of the hole and caught trout on just about every cast  until the water got high enough fro the trout to spread out on the flat. By that time it was time to head to the dock to put the boat on the trailer and grab some lunch.
With February will come the last of the negative low morning tides that make the airboat so effective, however this will open up the flats to the Ranger Banshee and alot of great fishing for March and April.
Fish on,
Capt. Greg DeVault
1-888-557-1885